Back
Easy Beef Wellington
Description
More than just a roast beef, adding new flavors and serving it in dough makes all the difference!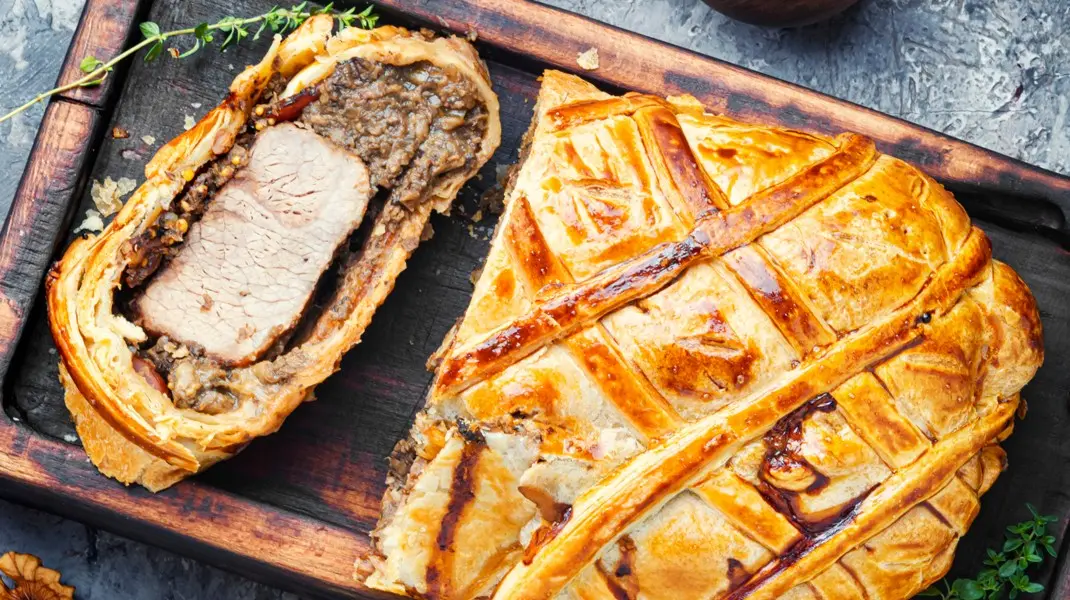 1

teaspoon Canola oil

1

beef roast, middle part (approx 2 lbs)

½

teaspoon salt

½

teaspoon pepper

1

pack of mushrooms, cleaned and chopped (approx 8 oz)

1

chopped chive

1

teaspoon of mixed spices (Italian or other to taste)

5

slices of bacon

1

pack of puff pastry (frozen)

1

egg
Using 1 teaspoon of oil, cook roast in a The Rock Diamond fry pan on each side for 2 minutes to make sure it's golden on medium-high heat. While cooking, season with salt and pepper to taste. Remove from heat and place on absorbent paper towels and refrigerate.
In the same fry pan, place bacon strips and cook until almost crispy. Chop into small pices. Cook chopped mushrooms in the same pan with chives. Cook until water from mushrooms is gone and they are golden. Add seasoning, mix with bacon and set aside. Refrigerate.
Use puff pasty to make a rectangle of about ⅛ inch thick. Place beef in center of dough, cover with mushroom mixture. Beat egg and use to seal the dough around the roast. Place roast with pastry seal on the bottom in a rectangular The Rock Ceramic Ovenware. Refrigerate for 1 hour.
Use remaining egg mixture to cover pastry before putting in the oven at 425F. Cook for 45 minutes if you want your meat to be medium rare. Cook for longer if you prefer your meat cooked more. Once cooked, let stand for 10 minutes before slicing.
Products used in this recipes