Back
Éclair with Lemon Cream and Meringue
Description
Another variant of the choux dough is a recipe for éclairs. A clear lemon cream, caramelized meringue and garnished with lime zest. Make the baking process easier with your Starfrit Silicone Cooking Mat.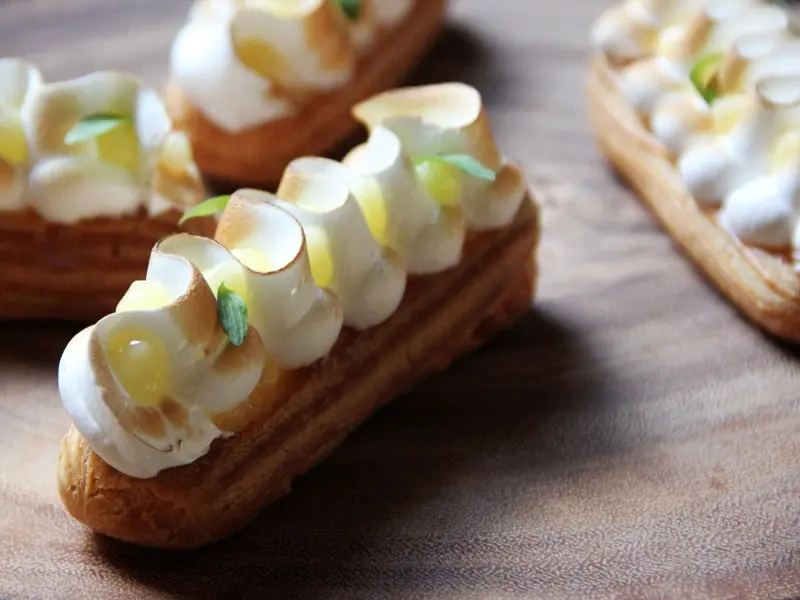 Éclairs
1/4

cup Water

1/4

cup Milk

1

tbsp Sugar

1

pinch Salt

1/4

cup Butter

1

tea spoon Vanilla extract

1/2

cup Wheat flour

3

Eggs
Lemon cream

3/4

cup Water

1/2

cup Sugar

2

tbsp Cornstarch

1/2

cup Lemon juice

2

Egg yolks

1

tbsp Butter
Meringue
2

Egg whites

1/2

cup Sugar

1

Lime
Preheat your oven at 400°F
For the éclairs
In a saucepan, bring to a boil the water, milk, sugar, salt, butter and the vanilla.
Remove from the heat and add the flour and start to stir with a wood spoon.
Place back on the stove and cook until the dough pulls away from the edges of the pan.
Transfer to a stand mixer and add the eggs one by one.
Fill a pastry bag with the dough and form the éclairs, 12 cm long on a baking tray lined with the Starfrit Silicone Cooking Mat.
For the lemon cream
In a pot, place all the ingredients except for the butter in the order they appear in the recipe.
Place on the stove top and cook while continuously stirring.
Let it boil for at least 30 seconds.
Pass the cream through a fine mesh sieve, whisk in the butter and set aside in the fridge covered with plastic wrap.
For the meringue
In the bowl of your stand mixer, combine the egg whites and sugar.
Place the bowl over a steam bath and start to energetically whisk.
Once the mixture starts to emulsify and the temperature is just about as hot as you can comfortably manage by touching it, transfer to the stand mixer.
Continue to whisk until it has cooled down completely.
With the help of a pastry pouch, garnish the eclair with the meringue.
For the plating
Remove the top of the eclair, fill it with lemon cream, and then with a pastry bag, make some nice little balls of meringue on the top.
Sprinkle with icing sugar and then caramelize with a torch.
Chef's tip
Using the Starfrit Silicone Cooking Mat will prevent the dough from sticking during the baking.
Products used in this recipes