Back
Family Chicken Fajitas
Description
Family dinners around the table are a must and with the chicken fajitas, everyone will be happy with their meal as they can prepare their own! By using the electric indoor BBQ grill, having grilled chicken is possible all year long!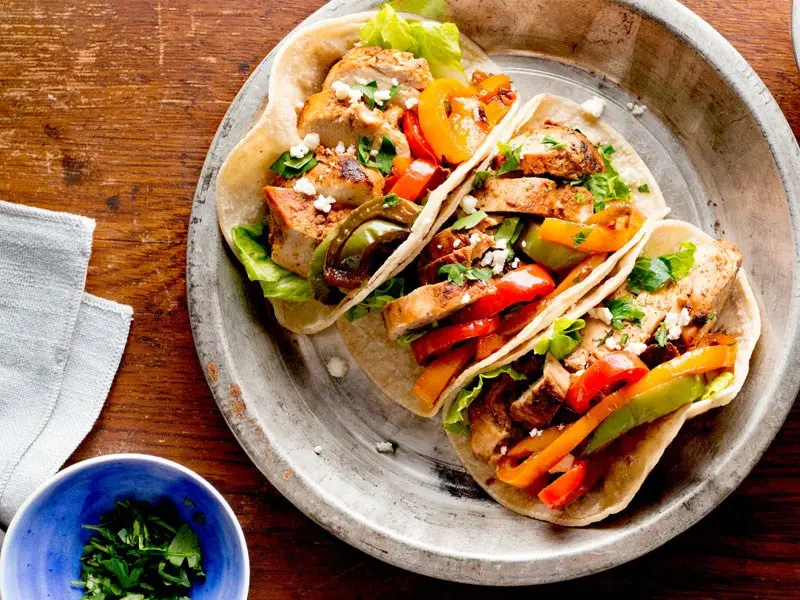 MARINADE
¾

cup vegetable oil

½

cup Worcestershire sauce

1/3

cup lime juice

2

tablespoons red vinegar

5

garlic cloves, minced
1

½

teaspoon dried oregano

1

tablespoon brown sugar

1

teaspoon pepper

½

teaspoon salt
TORTILLAS
1

½

lb chicken breasts, cut in slices

1

salad cut into small pieces

2

red tomatoes, diced

2

cups orange Cheddar, grated

2

onions, sliced

2

green peppers, cut in slices

6

wheat tortillas (6 inch diameter)
Marinated peppers
Salsa
Guacamole
Mix all ingredients for the marinade and place in a large Lock&Lock food storage container.
Place chicken slices into the marinade, close lid and shake well. Close and place in refrigerator 4 hours, shaking occasionnally.
Grate cheese, clean lettuce and place into serving bowls.
Place indoor smokeless BBQ grill at the center of the table or on a flat surface and place all ingredients around the grill.
Pour 1 cup of water into the dip tray of the unit before pluging the temperature control.
Cook chicken slices for 7 minutes, turning them after 3-4 minutes so each side is cooked.
Each guest around the table can garnish their own tortilla with the food on the table according to their own taste to create their perfect fajitas.
Products used in this recipes