Back
Fresh Tuna Salad
Description
Light and nourishing meal, easy and quick to make and perfect for a lunch box and without any of the major allergens! Perfect for your Lock&Lock Bento Lunchbox - 950ml by Starfrit.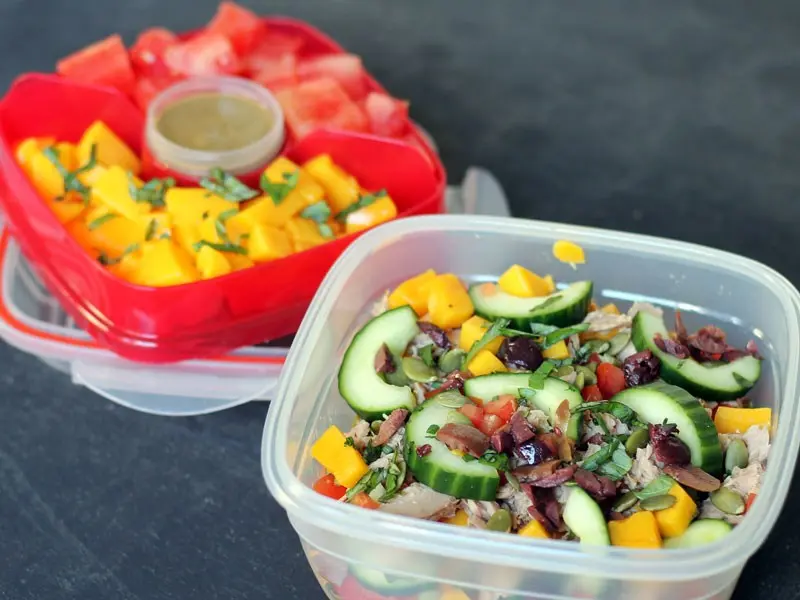 2

cups Seedless watermelon

1

Cucumber

1

cup Pitted black olives

1

Yellow pepper

8

leaves Basil

2

sprigs Tarragon

10

sprigs Chives

5

Italian tomatoes

2

tbsp Pumpkin seeds

1

Yellow mango

1

tbsp Balsamic vinegar

1

tsp Dijon mustard

1

Lime

1

can Flaked light tuna
Olive oil
Salt and pepper
Preheat your oven to 375 F°
Preparation
Cut the watermelon flesh into small cubes.
Cut the cucumber into half moons and remove the seeds, then salt them to remove excess water.
Seed and slice the pepper.
Finely slice the chives, tarragon and basil.
Cut the tomatoes into quarters, remove the seeds and cut into small cubes.
Roast the pumpkin seeds in the oven for 5 minutes.
Cut the mango into small cubes.
Zest the limes and juice them.
Salad
In a mixing bowl, combine the mustard, vinegar, salt, pepper, olive oil, lime zest and lime juice.
Add the rest of the ingredients except for the tuna and gently combine.
Add the fresh herbs and combine.
Transfer to your Starfrit lunch box and top with the tuna.
Keep refrigerated until ready to eat.