Back
Glazed Pork Chops and Pears Casserole
Description
Use The Rock Collection with T-Lock Detachable Handle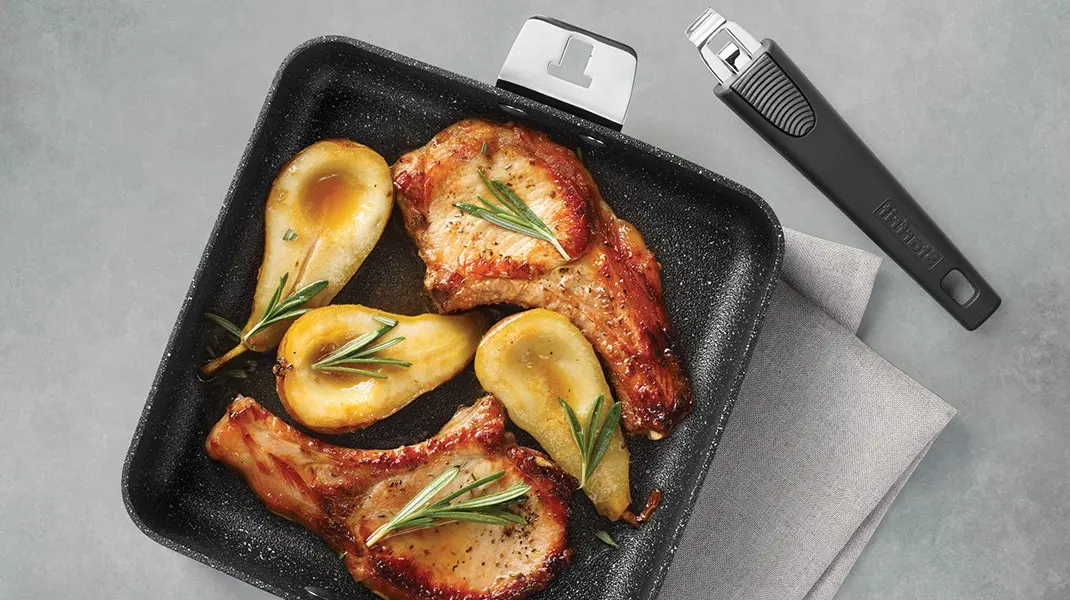 4

lb pork loin chops (center-cut)

1

lb sweet potatoes, peeled

1

large Bartlett pear or 1 Granny Smith apple, as substitute

1

small red onion, sliced

½

cup apple juice

½

teaspoon dried thyme

½

cup maple syrup

½

tablespoon garlic
Preheat oven to 400°F.
In 9" Fry Pan / Square Dish w/Detachable Handle over medium-high heat, brown pork chops on both sides, about 10 minutes.
Cut sweet potatoes lengthwise in half. Cut each piece crosswise in half. Cut each quarter crosswise into slices about 1/3-inch thick.
Cut pear, unpeeled, into 8 wedges and remove core.
Arrange sweet potato slices, pear wedges and onion wedges over chops.
In small bowl, mix remaining ingredients; pour over pork chops and vegetables.
Bake, uncovered, 45 minutes, basting occasionally, or until sweet potatoes are tender.
Spoon pan juices over each serving.