Back
Bruschetta with Goat Cheese, Fresh Basil, Sundried Tomatoes
Description
Canapés of diced and sundried tomatoes, red onions, garlic all slightly cooked and served on warm baguette croutons and garnished with a basil chiffonade and crumbled goat cheese. Done in one easy step with the Food Processor by Starfrit!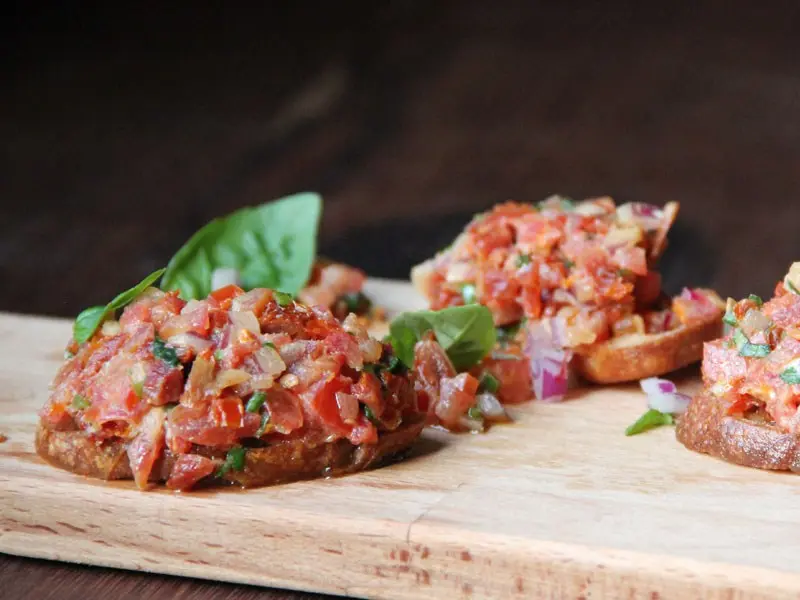 Bruschetta
3

Italian tomatoes

6

Sundried tomatoes

1

clove Garlic

4

sprigs Basil

1/4

cup Fresh goat cheese

4

sprigs Thyme

1

Red onion
Croutons
Preheat your oven to 400°F
Setting Up
Put the tomatoes, the sundried tomatoes and the red onion in the Food Processor, by Starfrit.
Finely cut the basil and chop the thyme leaves.
Crumble the goat cheese.
Cut the baguette into thin angled slices.
Croutons
Place the baguette slices on a baking tray and drizzle them with a little bit of olive oil.
Season them with salt and pepper.
Bake in the oven for 7-8 minutes or until golden.
Bruschetta
In a large The Rock non-stick pan, drizzle a little olive oil and sauté the onions for about 2 minutes with a pinch of salt.
Add in the garlic and keep stirring for an extra minute.
Add in the sundried tomatoes and Italian tomatoes and cook for 1-2 minutes.
Season well with salt and pepper.
Remove from the heat and add in the chopped basil, thyme and crumbled goat cheese mixing very carefully to make sure not to melt the cheese completely.
Assembly
Serve this bruschetta mix on the croutons immediately.
You can drizzle some reduced balsamic vinegar on top as a garnish and add some basil chiffonade on top.
Chef's tip
Cook the bruschetta at the last minute to preserve its freshness.