Back
Gratin Dauphinois
Description
What better way to cook and present this simple Gratin Dauphinois recipe than the Starfrit 5.3" (13.5cm) Cast Iron Skillets with Maple Wood Trays?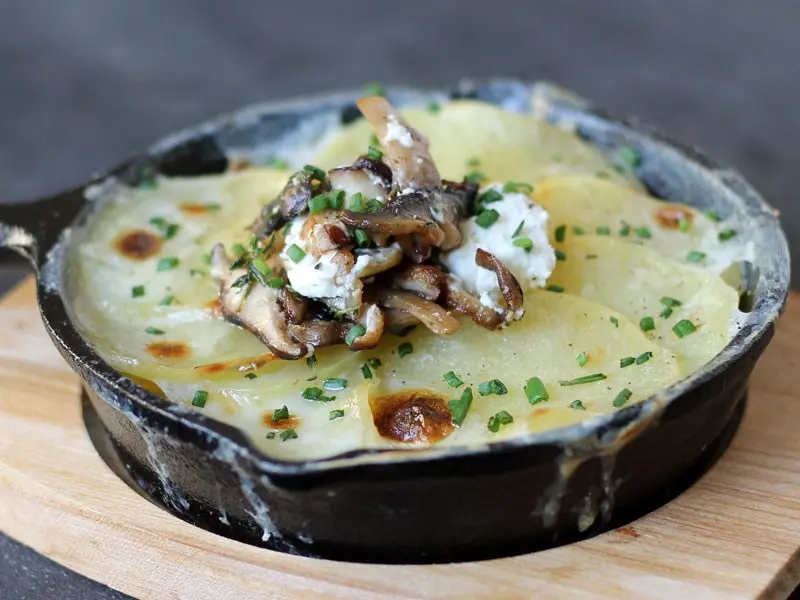 Gratin Dauphinois
2

lb Yukon Gold potatoes

3

cloves Garlic

1/2

cup Milk

1 1/2

cups 35% cooking cream
Mushroom Garnish
3

cups Button mushrooms

1

cup Shiitake mushroom

2

sprigs Thyme

2

cloves Chopped garlic

1

cup Fresh goat cheese
Finishing touch
Preheat your oven to 355 F°
Preparation
Peel potatoes and place in cold water to prevent darkening.
Peel the garlic cloves. Cut one of them in half and chop finely the rest of the garlic.
Chop the thyme at the last moment to prevent darkening.
Remove the Shiitake stems and slice the mushrooms thinly.
Cut the chives as thin as possible.
Gratin Dauphinois
With the garlic clove cut in half, generously rub the bottom and the sides of your Starfrit 5.3" (13.5cm) Cast Iron Skillets with Maple Wood Trays.
Afterwards, repeat the procedure with a piece of butter.
With a mandoline, cut the potatoes in thin slices (1mm thick) and gather all the slices in a bowl.
Season with salt and pepper, add the thyme and the minced garlic.
Pour the dairy products on top.
With your hands, separate each slice to make sure that they are not sticking together.
Mix again to ensure that the seasoning is everywhere.
Then place the potato slices one layer after the other in your mini pans that you previously prepared.
The only left to do is to pour the extra sauce in the pans.
If the potatoes are not covered with the liquid, add cream.
Place the pans in your preheated oven for 25-30 minutes.
Your knife should easily pierce through the layers of potatoes to consider the dish cooked.
Once cooked, the gratin should have a nice golden color.
Mushrooms
In a hot oiled pan, grill mushrooms with a dash of salt to give them a nice color.
Take off the heat and add goat cheese crumbles - keep warm.
Adjust seasoning.
Finishing touches
When ready to serve, place the Starfrit 5.3" (13.5cm) Cast Iron Skillets in the oven for 3 minutes.
Once taken out of the oven, place them on the Maple Wood Trays, and sprinkle the chives on top.