Back
Hachis Parmentier
Description
Meat and potatoes dish - hachis parmentier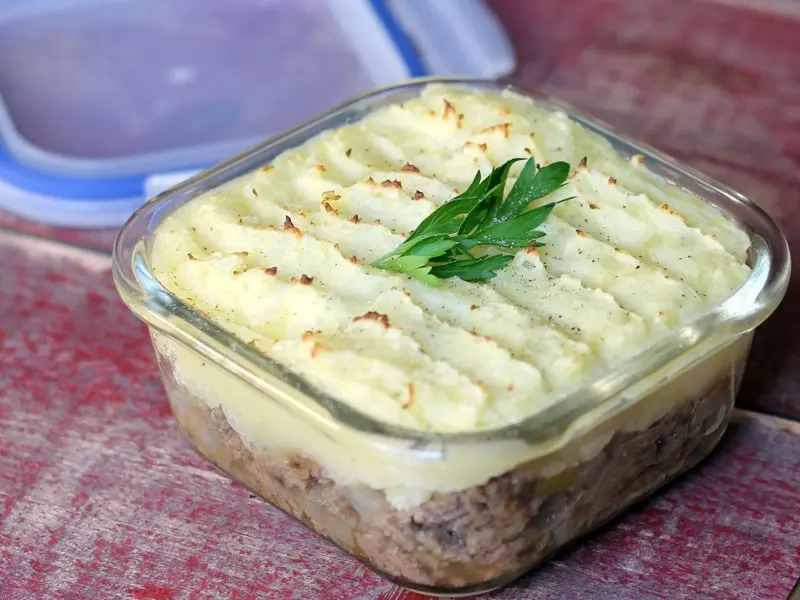 500

gr Ground beef

1

White onion

4

lb Yukon Gold potatoes

1

cup Milk

3

tbsp Butter
Vegetable oil
Salt and pepper
Preheat your oven to 425 F°
Preparation
Mince the onion.
Heat the milk gently and set aside.
Mashed potatoes
Peel the potatoes and cut them into cubes.
Transfer the potatoes to a pot with salted cold water (10% by volume).
Bring to a boil and cook until a knife easily passes through the potatoes.
Strain the potatoes and then transfer them back to the pot you cooked them in.
Add the warm milk. With a whisk or potato masher mix until nice and smooth.
Add more milk if necessary.
Add the butter and season to taste with salt and pepper.

Hachis Parmentier
In a hot skillet with oil, sweat the onions.
Once translucent, add the minced meat and cook thoroughly.
Transfer the meat and onions to the bottom of your Lock & Lock Glass 500 ml Square container and cover with the mashed potatoes.
Sprinkle with little knobs of butter here and there.
Transfer to the oven until you have a nice golden color.
Finishing
All you need to do is heat up your Lock & Lock Glass 500 ml Square container in the microwave or the oven before eating!
Products used in this recipes