Back
Home-Made "Cup-A-Soup"
Description
Rice vermicelli soup accompanied by vegetables and shrimp. All served in your Starfrit Lock&Lock lunch container. Easy to bring to work, all that is needed is hot water.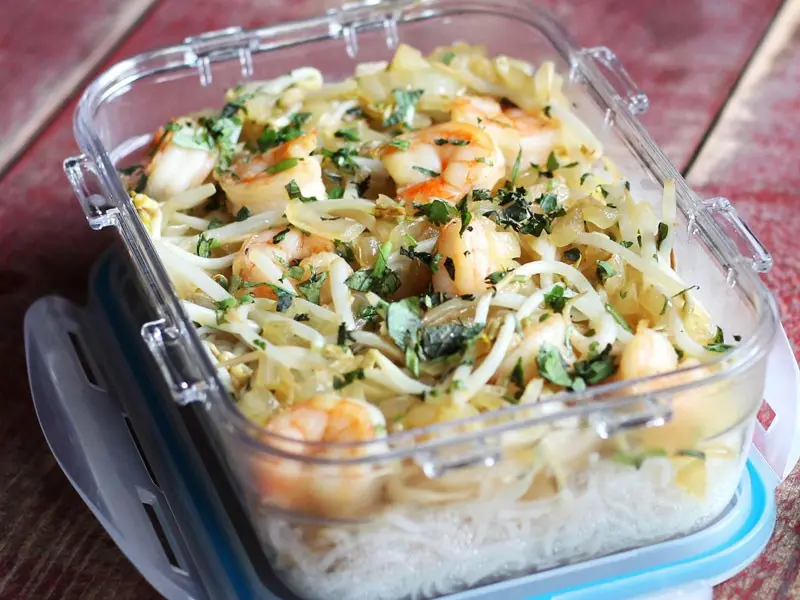 1

Onion

1

tbsp Chopped garlic

1

tbsp Roasted sesame oil

1

tbsp Fresh ginger

3

cups Boiling water

1

tbsp Nuoc Mam (Fish Sauce)

1

tbsp Sugar

1/2

tsp Coriander seeds

1

Star anise

2

cups Matane shrimps

4

Portions Rice vermicelli

3/4

cup Sprouted soybeans

8

leaves Mint

8

leaves Fresh cilantro
4 Lime wedges
Preparation
In a skillet, heat the sesame oil and sweat the minced onions.
Add the shrimp and cook for another 3-4 minutes.
Season with salt and pepper.
Add the garlic, ginger, fish sauce, coriander and star anis.
Add the sugar.
Combine well and let cook for a few minutes.
Plating
Place the rice noodles in the bottom of your Lock&Lock box and transfer the prepared mix on top.
Garnish with cillantro and mint leaves.
Finalise with soy beans.
When ready to eat, pour boiling water in the box so as to cook the noodles instantly.