Back
Layered Vegetarian Salad
Description
No problem whatsoever bringing this vegetarian salad to work with you for a healthy lunch packed with freshness, thanks to the Lock&Lock Starfrit containers.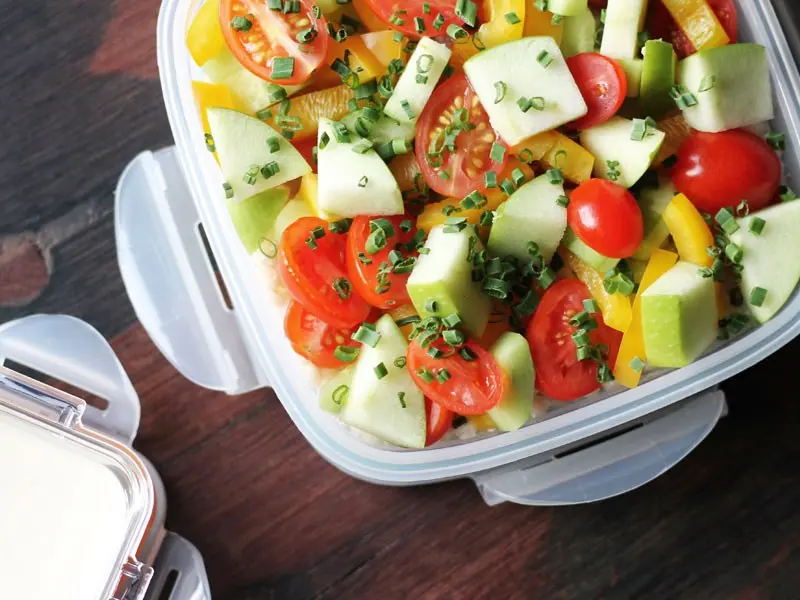 Salad garnishes
1

Green Apple

2

Trays Cherry tomatoes

1

Cucumber

2

Yellow peppers

15

sprigs Chives
Barley
1

cup Pearled barley

1

Liter Vegetable stock
Dressing
1

cup Plain Greek yogurt 0%

1

tbsp Dijon mustard

3

tbsps White balsamic vinegar

¼

cup Pumpkin seeds

3

tbsps Water

1

Juice of 1 lemon

1

Zests of 1 lime
Preparation
Clean the produce and pat dry with a rag.
Remove the seeds from the peppers and cut into strips.
Make small cubes from the granny smith apples.
Set aside with a splash of lemon juice to avoid oxydizing.
Cut the cherry tomatoes in 2.
Slice the cucumber into slices.
Set all the produce aside in the fridge until ready to use.
Barley
In a sauce pot with the vegetable stock, bring the barley to a boil.
Lower the heat and let cook for roughly an hour or until cooked through.
Strain and set aside in the fridge.
Dressing
Combine all of the dressing ingredients in a mixing bowl and season to taste with salt and pepper.
Plating
Make a bed of barley at the bottom of your dish.
Alternatively place all of the other ingredients on top of the barley so as to make a nice colorful bed.
Drizzle the vinaigrette on top and then all you need to do is mix well when ready to eat!