Back
Mediterranean Soup
Description
We're sorry, an error has occurred while generating this content.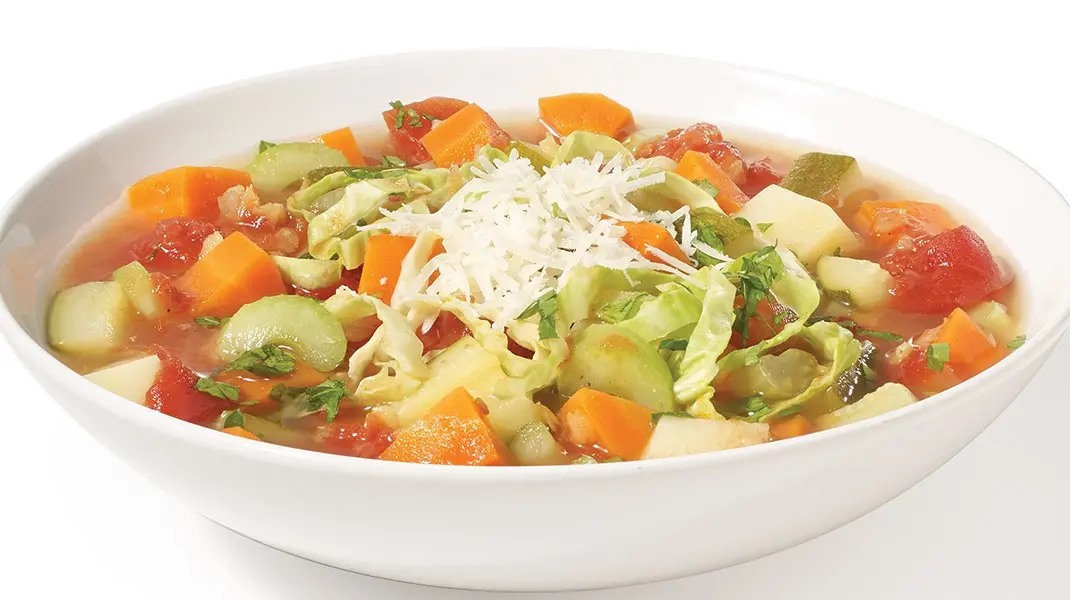 2

tablespoons extra virgin olive oil

1

large onion, diced

3

celery stalks, diced

3

medium carrots, trimmed, peeled, and diced

2

medium zucchini, ends trimmed and chopped into 3/4-inch chunks

3

gold potatoes, scrubbed and chopped into 3/4-inch cubes

3/4

cup split red lentils

1

cup canned chopped tomatoes (with their juices)

2

dried bay leaves

3-4

sprigs of fresh thyme

5

cups vegetable stock

1

teaspoon kosher sea salt, plus more freshly ground black pepper

2-3

cups finely sliced savoy cabbage, reserved for later
extra virgin olive oil, for drizzling
freshly chopped flat-leaf parsley (or basil), for garnishing
freshly grated parmigiano-reggiano cheese, for garnishing
Press ''SAUTÉ'' function and let the appliance preheat for 2 minutes.
Stir together, extra virgin oil, onion, celery, carrots, zucchini and potatoes.
Once vegetable is browned, press ''CANCEL'' and switch to ''SOUP''. Used the setting MED.
Add all the other ingredients to the cooking pot: vegetable stock, tomatoes, bay leaves, fresh thyme, red lentils, salt and pepper and. Stir to combine.
Close the lid until you hear a ''click'', plug the appliance. NOTE: In any setting, the time can be changed by pressing the ''+'' and ''-''. NOTE: These presets is for reference only. Actual cooking times may vary.
Press START button to accept the setting. Note: Refer to the ''COOKING PROGRESS DISPLAY'' section to monitor cooking stages.
Once cooking time is over, the appliance will beep 5 times and automatically switch to WARM mode.
Let the appliance cool down completely. For a quick release; carefully turn the steam release vent to the ''release '' position . Do not try to force the lid open. WARNING: Use extreme caution when opening the lid and as hot steam will escape and may cause scalding. Use protective oven mitts or gloves to avoid burns or serious personal injury. Always use utensils to handle hot food. WARNING: DO NOT attempt to open the lid before cooking time is over and pressure is completely released from the appliance. This may cause serious injuries.
Turn the lid clockwise to UNLOCK.
Remove the lid.
Transfer the soup into bowls, add fresh parsley and fresh parmigiano-reggiano cheese on top and serve.
Products used in this recipes