Back
One Pot Fall Apple Cinnamon Tarte Tatin
Description
This One Pot tarte tatin is sure to impress with its caramelized sauce, tender apples and puff pastry.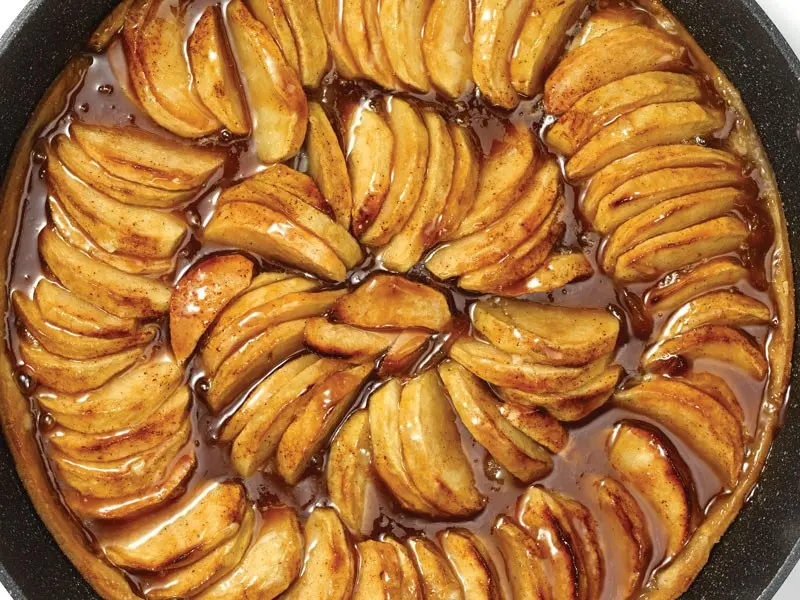 ¼

cup (60 ml) butter

¾

cup (180 ml) sugar

6

Cortland or Granny Smith apples, peeled, cored and cut into segments

½

tsp (2.5 ml) ground cinnamon

½

lb (225 g) pie dough, prepared and thawed
With the rack in the middle position, preheat the oven to 350 °F (176 °C). In your The Rock One PotTM 5 Qt Dutch Oven, at a medium heat setting, melt the butter. Add the sugar, stir well and cook until sugar mixture is golden colored and caramelized. Add apples, stir well and cook until partially tender. Sprinkle with cinnamon. While apples are cooking, roll out pie dough to the same size as your casserole (use the lid to cut the dough to size). When apples are ready, carefully lay the pie dough on top of the apples and bake in the oven for about 25 to 30 minutes or until golden brown. Remove from oven and allow to rest for 30 minutes. Place a cutting board (or a plate) on top of the dutch oven and carefully invert the tart.
NOTE: If desired, serve with whipped cream and lemon zest.