Back
One Pot Chicken Seafood Paella
Description
This tasty One Pot chicken and seafood paella is filled with complex flavors, but it is surprisingly quick and easy to do. Impress your guests without the stress!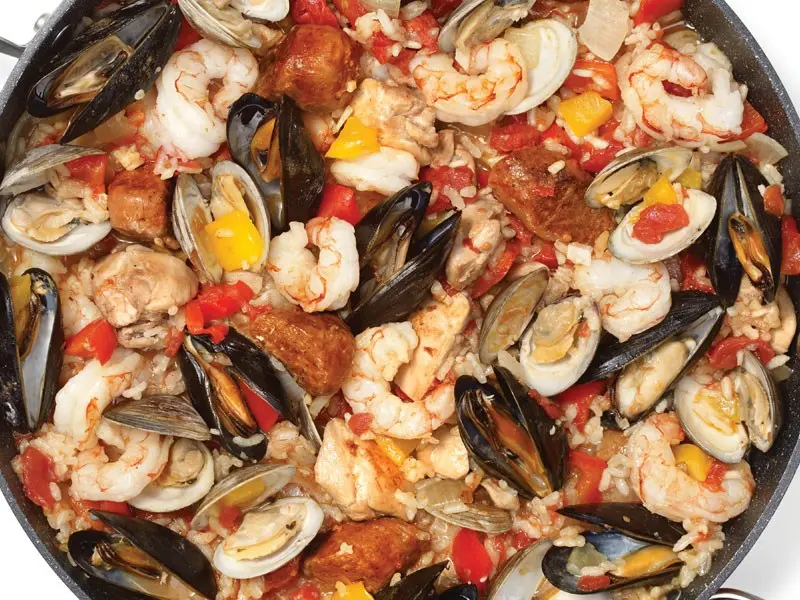 1

lb (454 g) chicken thighs, cut into quarters

½

lb (225 g) Italian sausage, sweet or hot, sliced into 2 inches pieces (about 2 sausages)

2

tbsp (30 ml) olive oil
Salt, pepper

5

cloves garlic, finely chopped

1

red bell pepper, minced

1

yellow bell pepper, minced

1

yellow onion, minced

1

can 19 oz (540 ml) diced tomatoes, drained
1

½

cups (375 ml) Arborio rice

1

pinch of saffron
2

½

cups (625 ml) chicken broth

1

lb (454 g) shrimp (16/20 count, peeled, deveined)

1

lb (454 g) mussels, rinsed and drained

1

lb (454 g) clams, rinsed and drained
In your The Rock One PotTM 12.5" Skillet, at a medium heat setting, brown the chicken and sausage in olive oil for about 4 to 5 minutes. Season with salt and pepper. Add garlic, bell pepper and onion and cook until tender. Add the diced tomatoes and simmer for 2 to 3 minutes. Pour in the rice and toss gently until coated. Add chicken stock and saffron; stir well. Cover and bring to a boil. Adjust heat to medium-low, stir and simmer, covered, for about 20 minutes. Once rice is tender but still al dente, add shrimps, mussels and clams. Cover and continue to simmer for 10 minutes until clams and mussels are completely open.