Back
One Pot Deconstructed Lasagna, Red Wine Sauce and Ricotta
Description
Ready in less than 20 minutes only, this One Pot deconstructed lasagna recipe is perfect for a weeknight meal. The red wine sauce makes this dish simply delicious!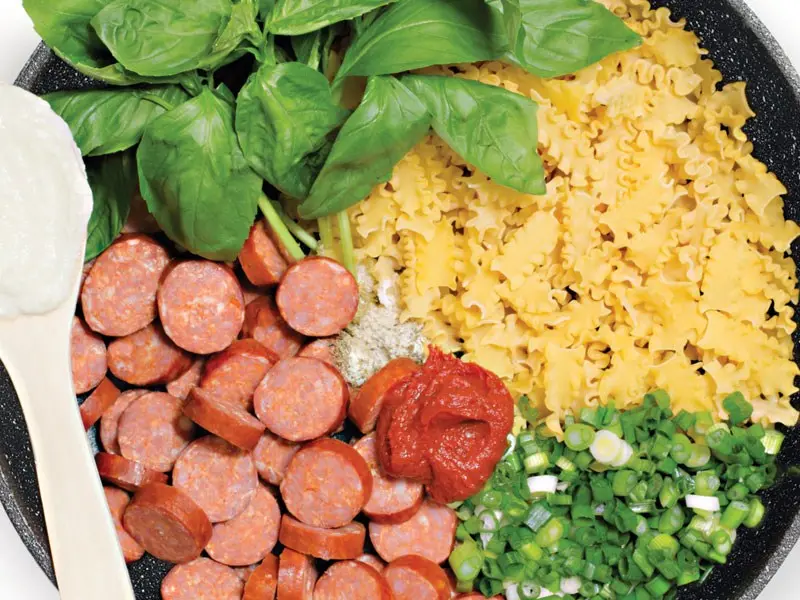 2

cups (500 ml) small lasagna noodles (or other small pasta)

1

cup (250 ml) cooked pepperoni (sweet or hot), thinly sliced

1

to 2 green onions, chopped

2

tsp (10 ml) sugar

¼

tsp (1 ml) dried oregano

¼

tsp (1 ml) celery salt

1

tsp (5 ml) garlic salt

4

tbsp (60 ml) tomato paste
Fresh basil leaves, to taste

1

cup (250 ml) beef broth

½

cup (125 ml) red wine
1

½

cup (375 ml) tomato juice

¼

cup (65 ml) ricotta cheese (for garnish)
In your The Rock One Pot 12.5'' Skillet, add all the ingredients except for the ricotta cheese and stir well. Cover and bring to a boil. Adjust heat to medium-low, stir and simmer, uncovered, for about 10 minutes, stirring regularly until pasta is al dente. Remove from heat and let rest for about 2 to 4 minutes. Serve with ricotta cheese.