Back
One Pot Mexican Rice Casserole with Meatballs
Description
This One Pot Mexican rice casserole with meatballs recipe provides everything you need for a complete and balanced meal.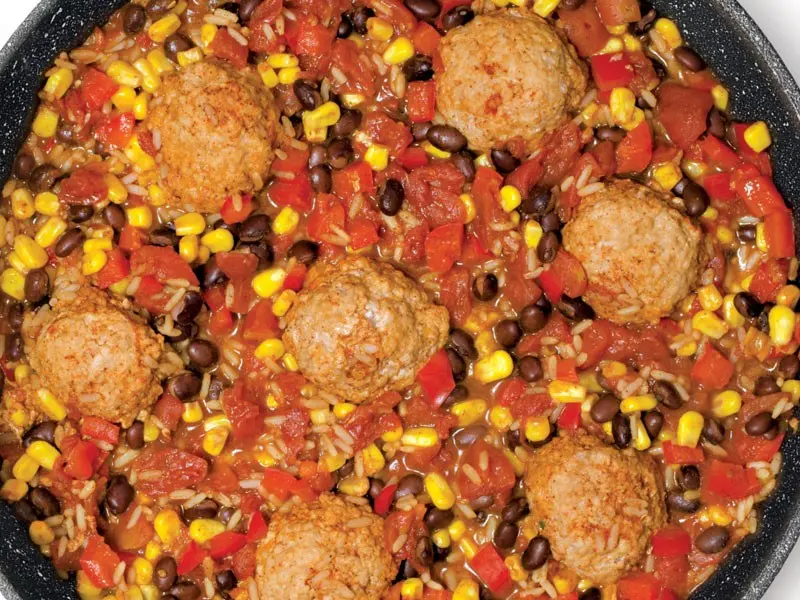 1

tbsp (15 ml) olive oil
Homemade pork meatballs (see note)
1

½

cups (375 ml) fresh tomatoes, diced
1

¼

cups (295 ml) corn kernels (frozen or canned)

¾

cup (190 ml) canned kidney beans, rinsed and drained

1

red bell pepper, seeded and diced

½

cup (125 ml) long grain white rice

1

cup (250 ml) chicken or vegetable broth

1

tbsp (15 ml) chili powder
Salt
Freshly ground pepper, to taste
In your The Rock One Pot 5 Qt Dutch Oven, at a medium heat setting, sear the meatballs in olive oil. Add tomatoes, corn kernels, bell pepper, rice and broth; stir gently. Sprinkle with chili and season with salt and pepper. Cover and bring to a boil. Add kidney beans. Adjust heat to medium-low, stir and simmer, half-covered, for about 15 to 20 minutes (turn meatballs halfway through cooking). Adjust seasoning.
NOTE
HOME-MADE MEATBALLS RECIPE: In a bowl, beat 1 egg. Add 1 slice bread (crumbled), 1 small yellow onion (finely chopped), ½ tsp (2.5 ml) dried parsley, ½ tsp (2.5 ml) salt, ¼ tsp (1 ml) pepper and mix well. Crumble ¾ lb (375 g) ground pork over mixture and mix well. Shape into 2" to 3'' balls.