Back
Pork Tacos with Chipotle Sauce
Description
Tacos garnished with crispy lettuce and ground pork meatballs. The whole thing topped with a chipotle sauce and sour cream. With its different compartments, the Starfrit Lock&Lock Bento 3-tier Lunchbox - 520 ml / 17.5 oz is ideal to keep the lettuce fresh, the tacos crispy, to reheat the meatballs separately and to assemble the parts at lunchtime!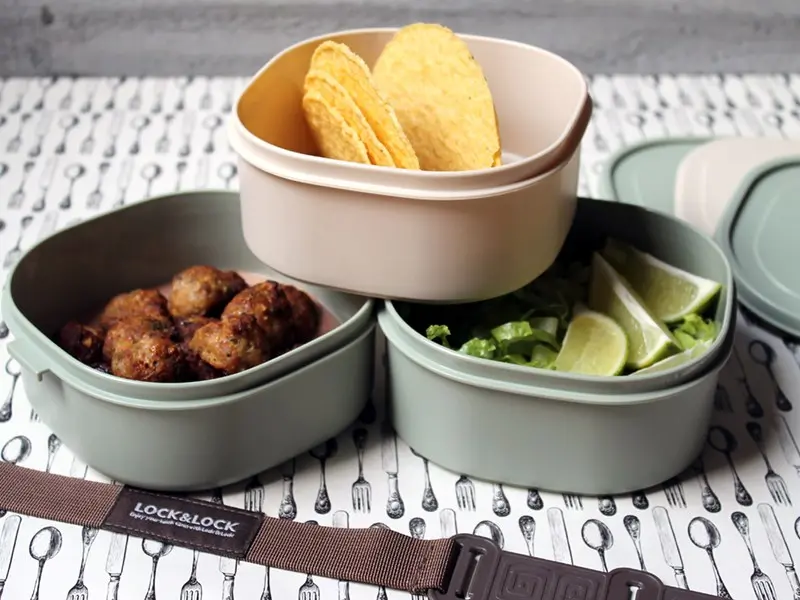 For the tacos
14

oz Ground pork

1

Shallot

10

sprigs Fresh cilantro

1

clove Garlic

2

tbsp Japanese breadcrumbs (Panko)

1

tea spoon Cajun spices

1

Egg
For the chipotle sauce
3/4

cup Sour cream

2

Limes

8

sprigs Chives

24

Mini-Tacos

2

leaves Romaine salad

1

tsp Chipotle pepper in adobo sauce
Vegetable oil
Salt and pepper
General preparation
Mince the French shallot, chives and cilantro.
Mince the garlic and slice the romaine lettuce to make a chiffonade.
Zest the lime and whisk the egg in a bowl.
Sauce preparation
In a bowl, combine the zest, sour cream, chipotle sauce and chives.
You can season to taste by adding salt, pepper and lime juice.
Tacos preparation
Combine all the ingredients for the meat balls and make sure they are well combined.
You do not have to add all the panko and eggs, add just enough to form balls that hold together.
Season to taste with salt and pepper.
Form 24 balls and place them on a baking sheet.
Cook for 10 minutes in the oven.
Remove from the oven, drizzle with the taco sauce and then finish cooking for 3-5 minutes.
To serve
In your Lock&Lock bento box, place the different preparations in separate compartments, making sure that the tacos are alone or they will become moist.
When ready to eat, layer the garnish in the tacos and enjoy!
Chef's tip
You can use any salad you like for the tacos.
Also, be careful not to make the sauce too spicy, use chipotle at your own discretion.