Back
Provencal Quiche
Description
Delightfully comforting quiche recipe. The Rock by Starfrit-8" Round Dish lets you accumulate and then gives & distributes enough heat equally to have the perfect crust in the dough. With this delicious recipe, you'll be asking for more!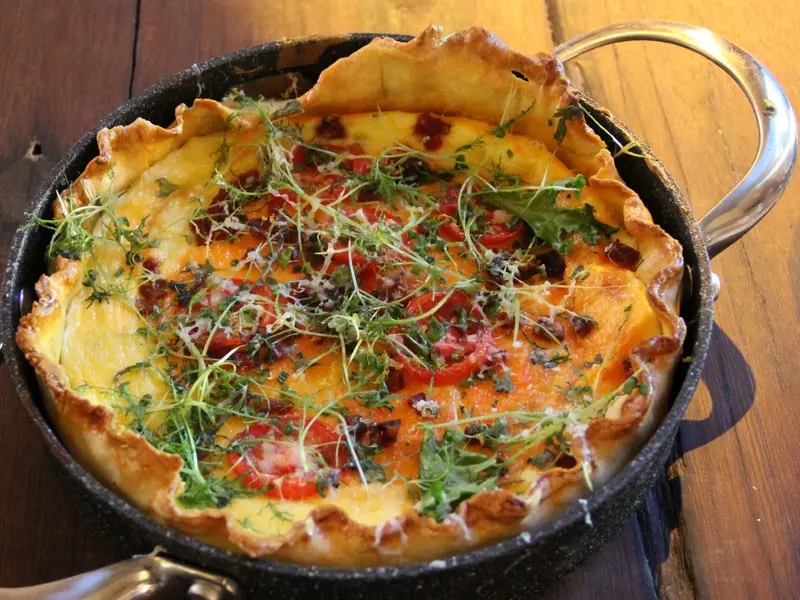 Garnishes
2

unit(s) Italian tomatoes

3

slice(s) Cooked ham

1/4

cup(s) Gruyere cheese

10

unit(s) Anchovy fillet
Dough (Pâte brisée)
5

cups Wheat flour

2

tsp Salt

1

Egg

2

tbsp Olive oil

3/4

cup Water
Migaine
3

Eggs

1/2

cup Milk

1/2

cup 35% cooking cream

1

tbsp Provencal herbs
Salad vinaigrette
4

handfuls Arugula salad

2

Anchovy fillets

1/2

Lemon

1

tbsp Dijon mustard

4

tbsp Vegetable oil

4

tbsp Olive oil
Preheat your oven at 400°F
Setting up
Wash the tomatoes, grate the cheese and cut the ham in small cubes (brunoise).
Garnishes
Cut the tomatoes into medium slices.
Cover the very bottom of the quiche with grated cheese, then the ham and the slices of tomatoes.
Lastly, the anchovies.
Dough
In a bowl, mix all the dry ingredients together; flour and salt.
Make somewhat of a volcano and pour in the liquid ingredients; the egg, the olive oil and the water.
Blend everything but do not mix it too much, in a mixing bowl or the old fashioned way on a table.
Cover with a plastic wrap then put it in the fridge for at least an hour.
Put some parchment paper all around The Rock by Starfrit-8" Round Dish.
Quiche mix
Put the eggs in a bowl and whisk.
Throw in the cream and the milk and then season with the nutmeg, the herbs and salt & pepper.
Pour the mixture inside the round dish, 2 inches off the very end.
In the oven for 20 minutes at 400F.
Salad vinaigrette
In a container, throw the vegetable oil, the olive oil, anchovies, the mustard, salt & pepper.
With a hand mixer bring everything together to make a great emulsion.
At the very moment of service, scatter lemon zests all over.
Assembly
Quiche inside a round plate, salad on the side and a couple of cheese shavings here and there and on the salad.
Chef's tip
The dough; again, it's very important not to mix it too much.
Make sure the butter that goes inside the mix isn't cut into small cubes, but medium ones.
Products used in this recipes