Back
Pudding "Chômeur"
Description
A French Canadian favorite, hot cake with buttery caramel sauce made in the Starfrit pressure cooker! It's simple, quick and very flavorful. This "Pouding Chomeur" recipe will be sure to please the whole family.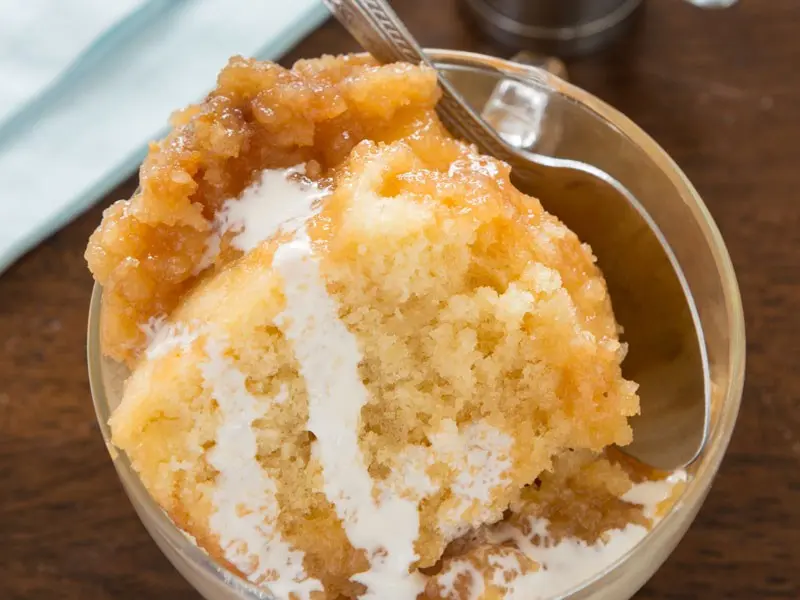 1

cup maple syrup

1

cup 35% cream

¾

cup brown sugar

½

cup butter

2

eggs

1

teaspoon vanilla extract
1½ cups all-purpose flour

1

teaspoon baking powder

1/4

teaspoon salt
Whipped cream to taste (for serving)
Combine the maple syrup, 35% cream and 1/2 cup brown sugar in a small saucepan and bring to a boil. Remove from heat.
Cream the butter and the remaining brown sugar together in a bowl with an electric mixer until light and fluffy. Add the eggs and vanilla extract and beat until just combined. Add the flour, baking powder and salt and mix until just combined (the batter will be thick like cookie dough).
Pour some of the maple syrup mixture into the ramekins, covering the bottom of each ramekin with about ½-inch of the liquid. Divide the batter into 6 chunks and place a chunk in each ramekin. Pour the remaining maple syrup mixture over and around the dough, filling the ramekins to the top. Wrap each ramekin completely with a piece of buttered aluminum foil.
Place the steaming tray in the bottom of the cooking pot and add 2 cups of water. Place the ramekins on the tray, stacking them on top of each other if necessary. Lock the lid in place.
Press the Whole Grain function. Then, press the Minutes button 5 times so the timer shows "00:25".
Reduce the pressure with the QUICK-RELEASE method and carefully remove the lid. Remove the ramekins from the cooker and unwrap them.
Let them cool to an edible temperature and then serve warm either alone or with a dollop of cream. (Remember this is a very sweet dessert and whipped cream is surprisingly refreshing).