Back
Reinvented Niçoise Salad
Description
The perfect summer recipe from Nice that we reinterpreted and that you will be able to take with you, on the go, in the Starfrit Lock&Lock Glass 630 ml (21 oz) Rectangular or any Lock&Lock food storage container.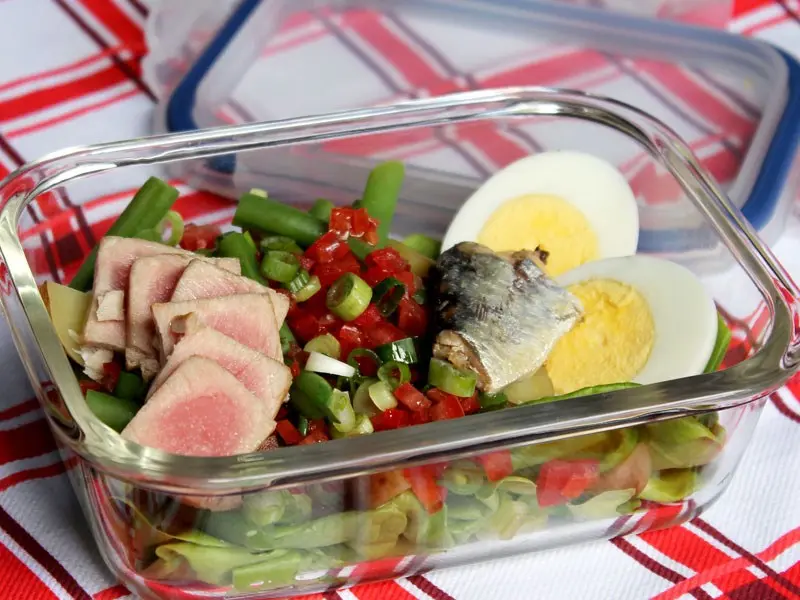 For the salad
0.4

lb Fingerling potatoes

1/5

lb Green beans

4

Green onion

1

can Anchovy

1/4

cup Pitted Kalamata olives

2

Eggs

2

Italian tomatoes

2

Boston lettuces
For the vinaigrette
2

tbsp Olive oil

2

Lemons

1

tsp Fleur de sel
Preparation
In a The Rock stock pot, put the potatoes and cover them with cold water, then bring to a boil and let it cook for 25 minutes.
Skewer the potatoes with a small knife, they must be soft inside.
Once done, strain and let cool down.
Peel and slice them.
Remove the stems from the green beans and cut in half.
In a big pot of salted boiling water, blanch for 5 minutes, strain and transfer to an ice bath.
Remove the lettuce leaves, wash and dry them.
In a pot of boiling water, cook the eggs for 10 minutes, then cool them down in cold water.
Peel them and cut them into quarters.
Mince the green onions.
Strain the anchovies.
Dice the tomatoes
Squeeze and strain the lemon juice.
For the salad
In a Lock&Lock food storage container, place the lettuce, then add all the ingredients except the anchovies.
In a separate bowl, mix the olive oil, the lemon juice, the sea salt and a bit of fresh cracked pepper.
Pour the vinaigrette on the salad and finish by topping with the anchovies.
Products used in this recipes