Back
Salmon Tartare
Description
A delicious summer recipe that will keep all its freshness in the Lock&Lock Easy Match 850 ml Round Container by Starfrit.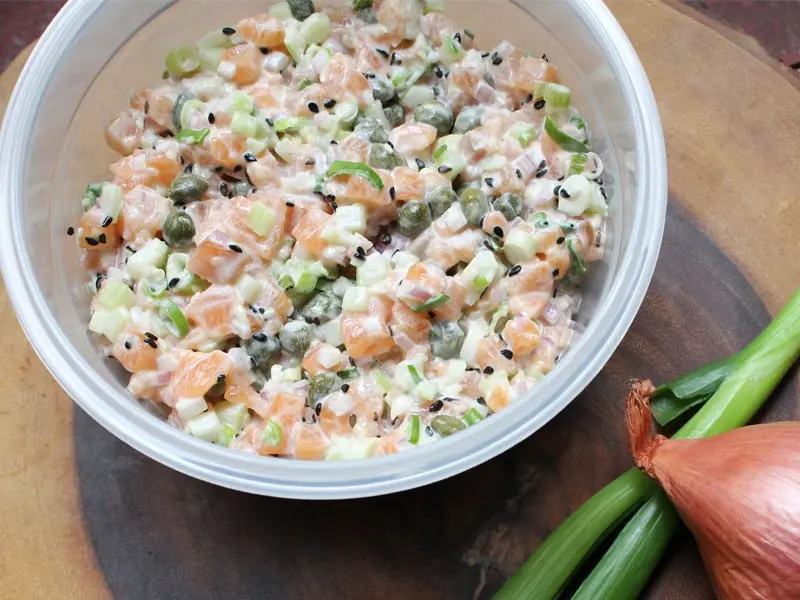 For the tartare
1.15

lbs Salmon filet

1

unit Shallot

8

sprigs Chives

1

tsp Tabasco

1

unit English cucumber

2

tsp Capers

2

tbsp Black sesame seeds

1

tbsp Mayonnaise

1

Green onion
Olive oil
Vegetable oil
Salt and pepper
Setting up
Remove the skin from the salmon and dice it.
Peel and remove the seeds from the cucumber and dice it.
Finely slice the French shallots, green onions and chives.
Toast the sesame seeds if they are raw.
To serve
In a bowl, combine the salmon and cucumber.
Gently mix in the mayonnaise as well as the rest of the ingredients.
Taste and season accordingly.
Place the tartar in your Lock&Lock Easy Match 850 ml Round Container.
Sprinkle the black sesame seeds and enjoy!
Chef's tip
A nice and even sized cut of the salmon and cucumber will make for the best texture.
If homemade, make sure your mayonnaise has a thick texture before adding the tabasco to avoid excess moisture.