Back
Seafood Gratin with Saffroned Béchamel
Description
Casserole garnished with seafood saffroned bechamel! A.K.A. Heaven. Make it all easy for you by using the Oyster set by Starfrit, if you have them in the gratin, and the Starfrit Seafood scissors for the crab or the lobster.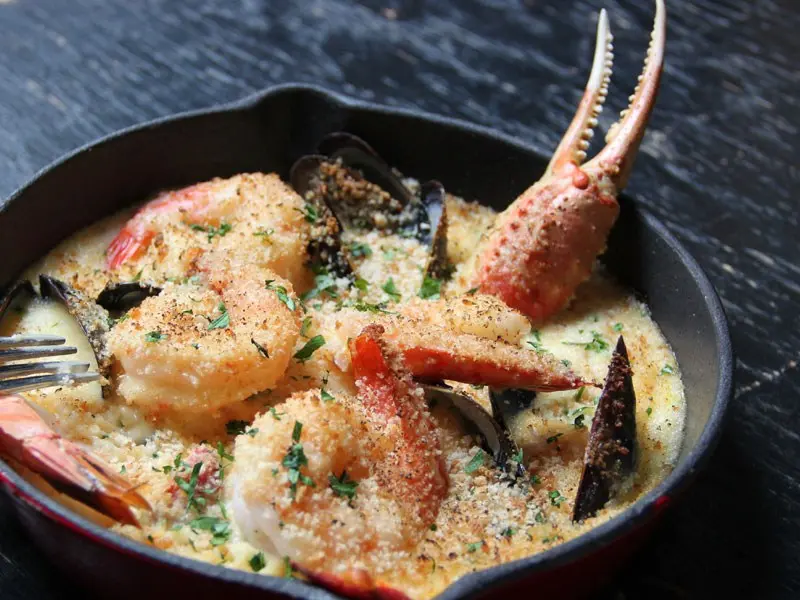 Bechamel
1

cups Mussel broth

2

tbsp Butter
1

½

tbsp Wheat flour

1

pinch(es) Saffron
Casserole
8

Fresh shrimps

2

Shallots

4

sprigs Parsley

1/2

cup White wine

4

tbsp Japanese breadcrumbs (Panko)

4

Oyster(s)

1/2

Cooked lobster

1

unit Snow crab
Mussels
1/3

Pound Fresh mussels

1/2

White onion

4

oz White wine
Preheat your oven on broil to 400°F
Setting up
Finely chop the shallots and the tarragon leaves.
Mince the onion.
Open up the oysters with the Oyster Set by Starfrit and reserve them in the fridge.
Shell the cooked lobster with the Starfrit Seafood scissors, then cut it into medallions.
If you're using crab, prepare in the same way.
Mussels
In a big stewpot, slowly cook the chopped shallots with a knob of butter, give or take 2mins or until translucent.
Put the white wine in and then bring everything to a boil.
Throw the mussels in, place a cover on top and let them cook 4-5 minutes at medium high heat.
It is imperative that the mussels open during cooking.
Throw away the ones that are still closed.
Take the mussels out while making sure to keep the remaining juice.
Bechamel
In a saucepan melt the butter, add the flour and cook everything for one minute on low heat, stirring constantly.
Pour half of the mussel broth then mix with a whisk until the sauce thickens up.
Add the remaining milk.
Continue whisking to prevent lumps.
Season, then add a pinch of saffron, and let everything steep until it cools down.
Casserole
Dry the shrimps on a clean and dry cloth in the fridge.
In a hot pan with a drizzle of vegetable oil, sear the shrimps and then take them out when golden brown.
Lastly in the same pan again, sweat the shallots slowly at medium heat, afterwise deglaze with the white wine, let it reduce and add the mussels.
Assembly
In individual oven-safe dishes, place the filling (2 shrimps, 2 mussels, 1 lobster medallion and the oyster/crab) and top with the bechamel sauce.
Sprinkle breadcrumbs/panko all over and bake at broil, until slightly browned.
Serve hot with a mixed green salad dressed with your favorite dressing.
Chef's tip
It is very important that you use the proper pan to have the absolute perfect cooking for both the shrimps and the scallops.
Both come from the sea and they need to be colored but not overcooked.
There is nothing more boring than dry seafood.
Products used in this recipes