Back
Smoked Salmon and Leek Pasta Salad
Description
We're sorry, an error has occurred while generating this content.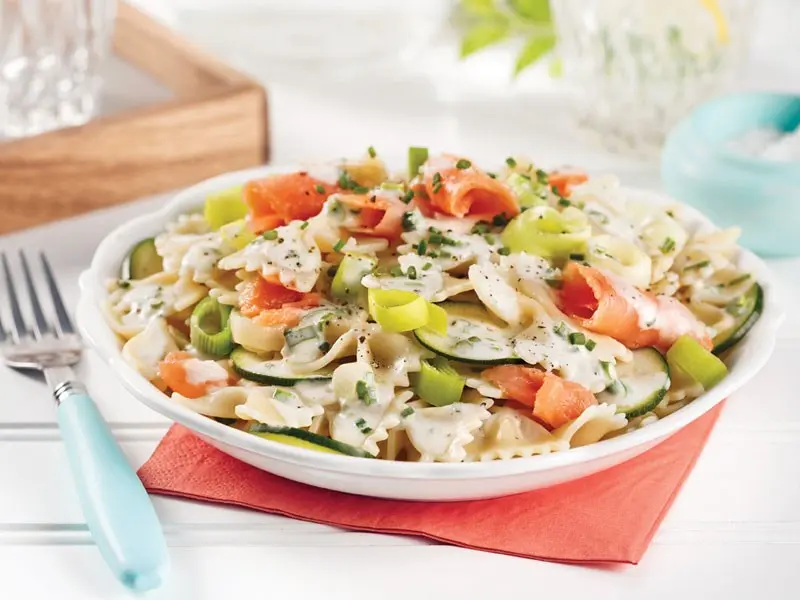 Farfalle Pasta (4 cups):
1/2

bag (250 g) cut leek

45

ml (3 tablespoons) fresh cream 40 %

2

chopped zucchini

2

packs of 120 g each of smoked salmon
Also prepare:
45

ml (3 tablespoons) olive oil

20

ml (4 teaspoons) lemon juice
Optional:
30

ml (2 tablespoons) chopped chive
In a saucepan, boil water with salt and cook pasta until al dente. Approximately 2 minutes before the pasta is cooked, add leek in the saucepan. Strain.
In a bowl, mix pasta, leek and 15 ml (1 tablespoon) of olive oil. Let cool.
In another bowl, whisk the rest of the olive oil with the fresh cream and lemon juice.
Add pasta, leek, chopped zucchini, smoked salmon and chive (optional). Add salt & pepper and mix gently.
Source: © Pratico-Pratiques 2017
Products used in this recipes