Back
Smoked Salmon Pizza
Description
An original and tasty pizza with a fresh homemade dough. Using the Starfrit Onion Holder, you can make quick work of slicing onions without even having to touch them! For grated parmesan, with the Starfrit Dual Grater with container, you can grate quickly and easily without losing a single crumb of cheese!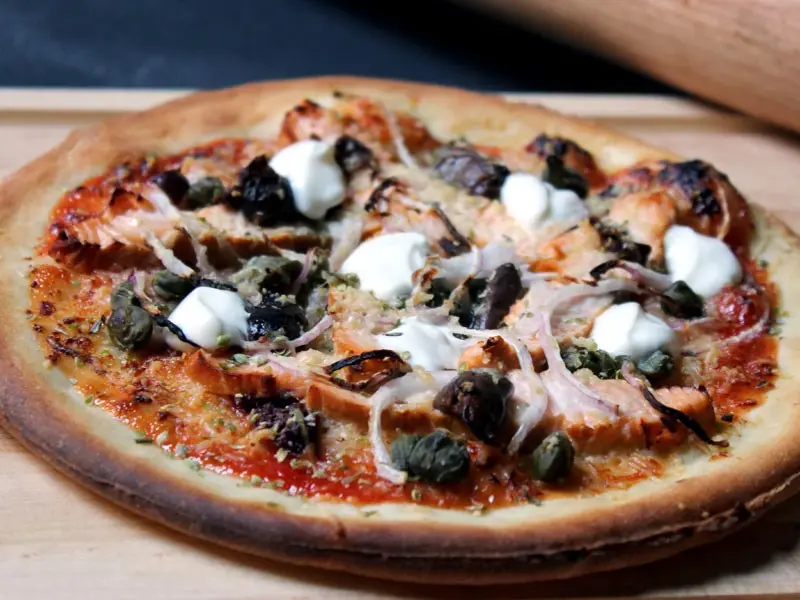 Dough
1

cup Warm water

1

tsp Dry yeast

3

pinches Salt

2

pinches Sugar
1

½

cups Wheat flour
Garnishes
4

tbsp Capers

1/2

Red onion

1/2

cup Sour cream

5

sprigs Chives

1

teaspoon Dried oregano

15

Sliced black olives

1/2

cup Grated parmesan

1

can Tomato sauce

6

slices Smoked salmon
Salt and pepper
Preheat your oven to 425 F°
Preparation
Peel and slice the onion with the help of the Starfrit Onion Holder.
Slice the chives.
Grate the parmesan with the help of the Starfrit Dual Grater with container.
Pizza dough
Combine the yeast and warm water in a bowl.
Add the rest of the ingredients and stir gently. If too liquid, add some flour.
Mix thoroughly or with a stand mixer until smooth.
Transfer to your work surface and form a ball.
Place in a mixing bowl with a little bit of oil.
Cover with a damp cloth and let rest for roughly 35 minutes. (it should double in size)
Separate the dough into the number of pizzas you want and form balls again.
Let rest a second time for roughly 30 minutes.
With your hands or a pastry roller, roll the pizza dough out into a flat circle and you are ready to garnish!
Garnishes
Strain the capers and olives.
Combine the sour cream with the chives, salt and pepper.
Make sure the oregano and red onions are close by when garnishing.
To garnish
On the pizza, evenly spread the tomato sauce.
Garnish with the rest of the ingredients evenly.
Finalize with the sour cream mixture.
Transfer to the oven and cook until the cheese is melted and the crust is golden brown.
Drizzle with olive oil before serving.
Chef's tip
Transfer the pizza to the oven as soon as it is garnished, this isn't something you can do in advance.
Same goes for rolling out the pizza, as soon as it is rolled you need to garnish and cook it.