Back
Steak with Sweet Potato French Fries
Description
A delicious Hanger Steak to sear with The Rock – 25cm (10") Grill Pan from Starfrit and slice flawlessly with the Starfrit Steak Knives. As a side dish, we will make crispy sweet potato fries with the Starfrit Fry Cutter.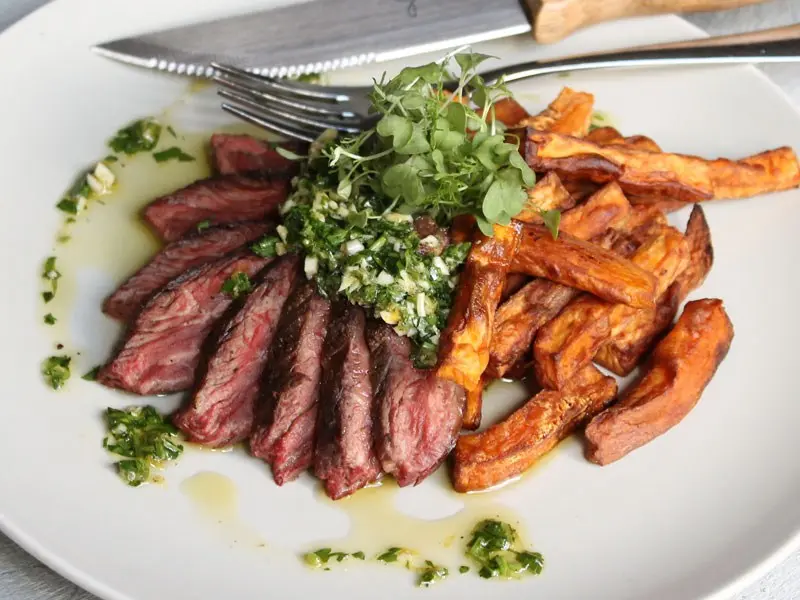 Steak and garnish
4

Hanger steaks (1/3 lb)

4

cloves Chopped garlic

6

sprigs Chopped parsley

3

tbsp Olive oil

1

Zests from 1 Lemon
Fries
1

1/2

lb Sweet potatoes

5

pinches salt (Fleur de sel)

2

pinches Smoked paprika

1

pinch Sugar
Steak and garnish
In a bowl, combine the garlic, parsley, lemon zest and olive oil. Set aside.
In your hot The Rock skillet with oil, sear the beef for 2 minutes on each side.
Transfer to a baking sheet and finish cooking in the oven for 6-8 minutes depending on how cooked you like it.
Fries
Peel the sweet potatoes and then use the Starfrit Fry Cutter to make the fries.
Cook in a fryer at 375°F for 3-4 minutes.
Strain well.
Repeat this process until colored before serving.
Season with salt, pepper, smoked paprika and a dash of sugar while still hot.
Plating
Let the beef rest for 5 minutes after removing from the oven. With the help of your Starfrit Steak Knife, slice the steak evenly.
Place the slices on a plate, garnish with the "persillade" and place the sweet potato fries beside.
Sprinkle with fleur de sel.
Products used in this recipes