Back
Stuffed Zucchini with Duck Confit
Description
Small bites with south of France flavors, a nice and simple mix between South-West and Provence, that you will bring with you in your lunchbox Lock&Lock Bento - 1.6L by Starfrit!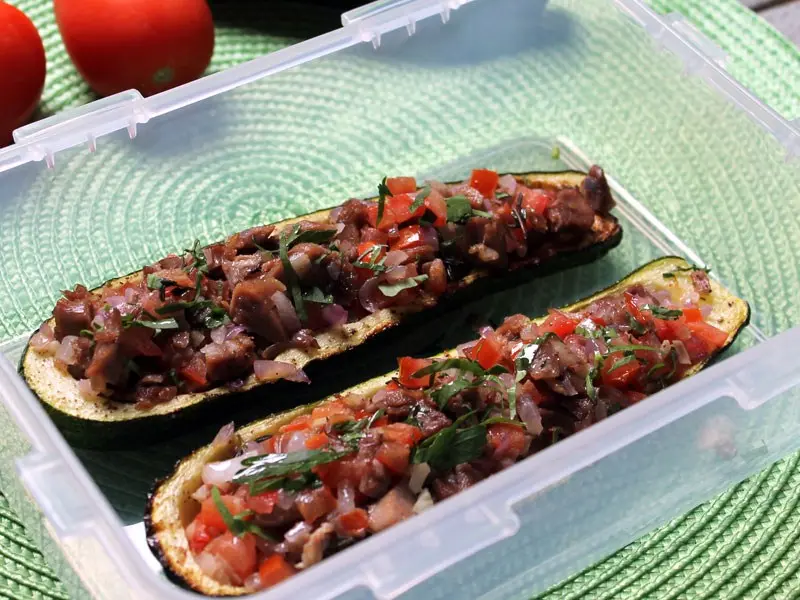 1

Confit duck legs

2

Zucchinis

4

sprigs Thyme

2

Italian tomatoes

1

Red onion

2

Garlic cloves

30

ml Duck fat
Preheat your at 400°F
For the preparation
Finely chop the onion, the garlic and the thyme, empty the tomatoes and cut the flesh in small cubes.
Remove the meat from the confit duck and chop it.
For the small stuffed zucchinis
Cut the zucchini in big slices, about 2 cm, then on one side empty the center, making sure not to go all the way through (2/3 depth roughly), place them on a baking tray with silicone mat, a nice drizzle of olive oil, salt and pepper, and cook them in a 400°F oven for 20 minutes.
For the duck stuffing
In a pan, melt the duck fat and sweat the onions, then add the garlic with the thyme, finally add the duck flesh and cook for another 2 to 3 minutes, finish by adding the tomatoes, and season to taste.
For the plating
Stuff the zucchini with the duck mix and flash them in the oven for 3 minutes, then transfer to your lunchbox Lock&Lock Bento - 1.6L by Starfrit.
You will only have to warm them up in the microwave to enjoy them!
Chef's tip
For the stuffing, you could do it with ground meat or change the vegetables, that is entirely up to you!