Back
Sweet and Sour Pork Filet
Description
Sweet and sour pork filet, Cortland apples, cauliflower steak and roasted hazelnuts: A fantastic all-season dish for every apple lover out there! The balanced blend of sweet and sour perfectly accompanies this pork filet. The Starfrit Apple Peeler and Apple Wedger will allow you to make quick work of any apple prepping. The Wedger makes perfect quarters every time for even cooking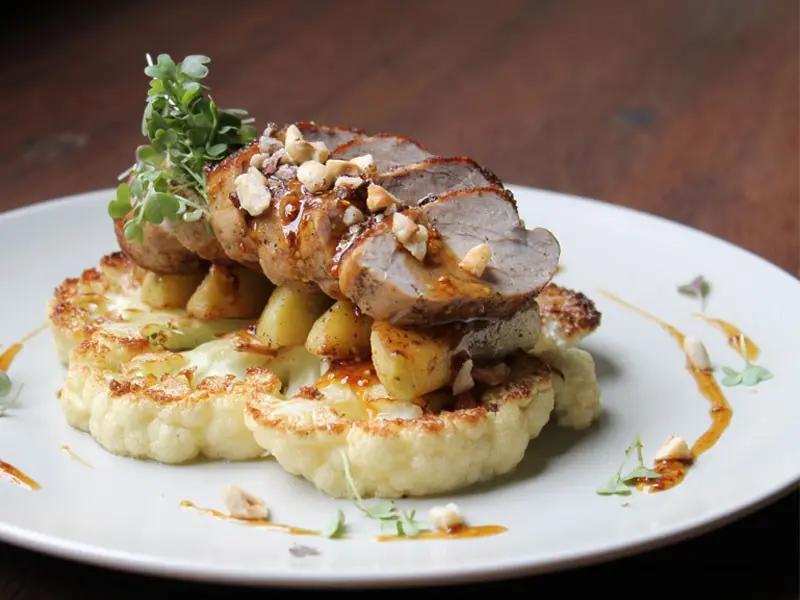 Apple pork filet
4

Pork filet mignons (150 g)

1/2

cup Chicken stock

1/2

cup Apple jelly

1/4

cup Apple cider vinegar

1/4

cup Honey

2

tbsp Maille grained mustard

1

tbsp Cornstarch

2

Cortland apples
Cauliflower steak
1

large Cauliflower

3/4

cup Hazelnuts

6

thick slices Lemon

1

Juice from 1 lemon

2

sprigs Thyme
Garnish
Preheat your oven to 420°F
Preparation
Warm up the chicken stock.
Remove the stem from the cauliflower while making sure to keep the bouquet intact.
Cut 3/4 inch slices from the cauliflower.
With the help of the Starfrit Apple Peeler, peel the apples.
Remove the cores from the apples and cut them into segments using the Starfrit Apple Wedger.
Roast the hazelnuts in the oven for 4 minutes and then crush them.
Apple pork filet
In a bowl, combine the chicken stock, apple jelly, vinegar, honey, mustard and starch.
In a hot The Rock skillet, sear the pork filets with a knob of butter and oil.
Season with salt and pepper.
Once caramelized, set aside.
Add the quartered apples into the pan you used for the pork and caramelize them lightly.
Add the stock mixture from the mixing bowl.
Bring to a boil.
The sauce will thicken, remove the heat once you reach the desired consistency and place the pork back into the skillet to finish cooking.
Turn them regularly.
Use a Starfrit instant-read thermometer to make sure the meat is cooked; the inner temperature should be 145°F (63°C).
Season to taste.
Cauliflower steak
Brush each slice of cauliflower with oil and then season with salt and pepper.
Place the slices on a baking sheet lined with the Starfrit Silicone Cooking Mat and
sprinkle with the thyme.
Spread the lemon slices evenly and add the lemon juice.
Place in the oven for about 20 minutes, making sure to turn them halfway through cooking to make sure they are evenly caramelized on both sides.
Use the point of a knife to make sure they are cooked through, ensuring a slight crunch in texture.
Plating
Place the roasted cauliflower steak in the center of the plate.
Place a few slices of pork on top as well as the apple slices.
Drizzle the sweet and sour sauce on the pork and on the outside of the plate.
Garnish with the roasted hazelnuts and some chives or other fresh herbs you may have.
Products used in this recipes