Back
Thai Style Beef Salad
Description
A Thai style beef salad without the major allergens: lactose, peanuts, gluten. Always be careful when preparing meals for someone with allergies, always make sure to have a sterile work environment. The Lock & Lock 950 ml / 32 oz and Lock & Lock 100 ml / 3 oz containers are ideal to keep the freshness of your beef salad on one side and the sauce on the other. Mix right before serving!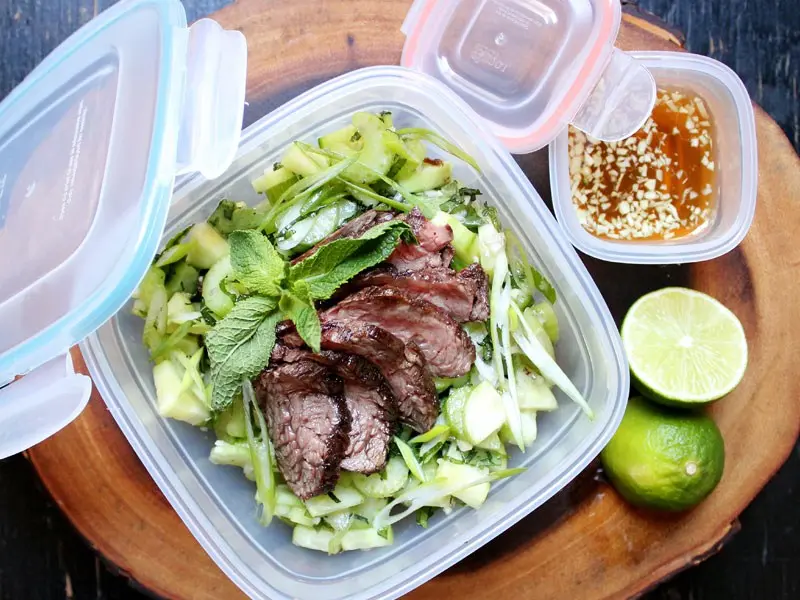 For the salad
1/2

unitCucumber

2

Green onions

1

Shallot

1/4

bunch Fresh cilantro

1

Lemongrass

4

sprigs Mint

1

sprig Celery

2/3

lbs Boston cut beef
For the sauce
1

Bird's eye chili

1

clove Garlic

1

tbsp Sugar

1

Lime

1

tbsp Fish sauce
Setting up
Peel and cut the cucumber in 4 pieces lengthwise and slice them.
Mince the onions and the celery.
Peel and mince the shallots.
Finely chop the cilantro, the mint and the lemon grass.
Empty the seeds from the chili and mince it. Mince the garlic.
For the salad
In a bowl, mix all the ingredients except the garlic and the chili.
Season the beef on each side.
In a hot The Rock pan with vegetable oil, sear the beef on each side until you reach a brown color, it should be medium rare on the inside.
Set aside for 5 minutes and slice it finely.
For the sauce
In a bowl, put the garlic, the chili, the sugar, the lime juice and the fish sauce.
Stir until combined and until the sugar is completely dissolved.
For the platting
Combine the sliced meat and vegetables with the sauce, making sure to mix well and serve it in four bowls.
Products used in this recipes