Back
Tomato and Crunchy Chick Pees Quinoa Salad
Description
We're sorry, an error has occurred while generating this content.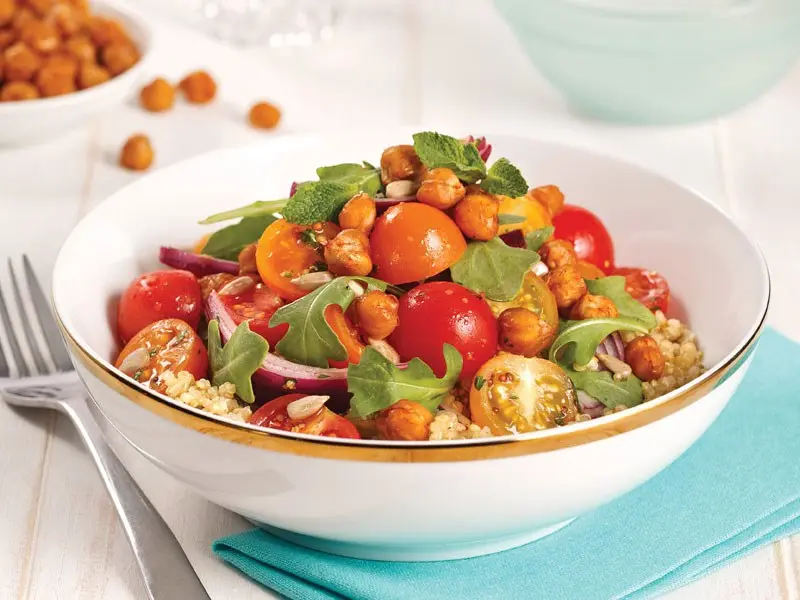 For the salad:
250

ml (1 cup) quinoa rinced and drained

375

ml (1 1/2 cups) vegetable broth

1

can of chick pees (540 ml), rinced and drained

60

ml (1/4  cup) maple syrup

15

ml (1 tablespoon) smoked paprika

2.5

ml (1/2  teaspoon) cumin

18

cherry tomatoes (varied colors), cut in halves

1

small red onion, minced

500

ml (2 cups) arugula leaves

80

ml (1/3 cup) sunflower seeds
For the dressing:
125

ml (1/2 cup) olive oil

60

ml (1/4  cup) chopped parsley

45

ml (3 tablespoons) chopped mint

30

ml (2 tablespoons) lemon juice

30

ml (2 tablespoons) mustard

30

ml (2 tablespoons) honey

10

ml (2 teaspoons) chopped garlic
Salt & pepper to taste
Preheat oven to 400 °F.
In a saucepan, put quinoa and vegetable broth. Bring to a boil, let simmer for 18 to 20 minutes until liquid is completely absorbed. Remove from heat and let stand for 5 minutes. Mix with a fork.
Make sure chick pees are dry with paper towels. Place in bowl with maple syrup, paprika and cumin. Mix.
On a cookie sheet lined with parchemin paper (or silicone sheet), place the chick pees. Cook 25 to 30 minutes stirring a couple of times during cooking period, until pees are golden and crunchy.
In a large bowl, mix all ingredients for the dressing. Add cherry tomatoes, red onion, arugula and sun flower seeds.
Place quinoa in plates. On each plate, place salad and chick pees. Serve.
Source: © Pratico-Pratiques 2017
Products used in this recipes