Back
Tuna Fusilli Salad
Description
balanced pasta salad, hearty and easy to make! Perfect to bring to work in a 850 ml round Lock&Lock Easy Match container!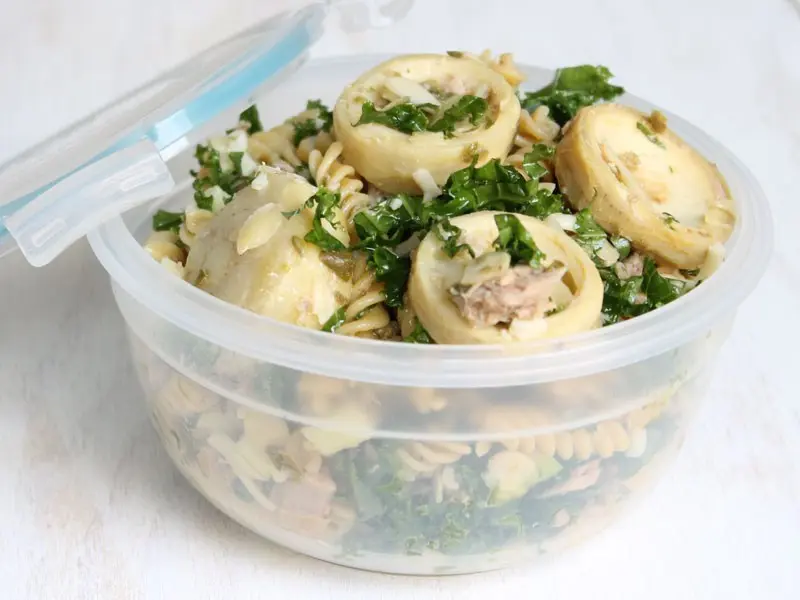 3/4

lb Whole wheat Fusilli

4

cup Kale cabbage leaves

5

Artichoke hearts

1/4

cup Sliced almonds

1

Granny Smith apple

1

tbsp Capers

1/4

cup Olive oil

3

tbsp Lemon juice

210

gr Flaked light tuna

1

cup Jarlsberg cheese
Preheat your oven to 375 F°
Preparation
Cook the pasta in salted boiling water for 7 to 10 minutes.
Roughly chop the kale. Strain the artichoke hearts and roughly chop.
Cut the green apple in small dice. Strain the tuna and crumble it.
Chop the capers.
Toast the almonds in a preheated oven for 5 minutes.
Dice the cheese.
Assembly
Once the pasta has cooled down, place in a bowl and mix in all the other ingredients.
Place the salad in a 850 ml Lock&Lock Easy Match Round Container.
When ready to eat, add the olive oil, salt and pepper.
Mix well and enjoy!
Products used in this recipes