Back
Turkey burger with Gruyere cheese
Description
Try this Turkey burger with melted Gruyere, creamy Dijon mustard and marinated red onions served with a baby spinach salad to get you psyched for spring! The Patty Stacker by Starfrit, comes in handy when molding and stacking your patties in one convenient container.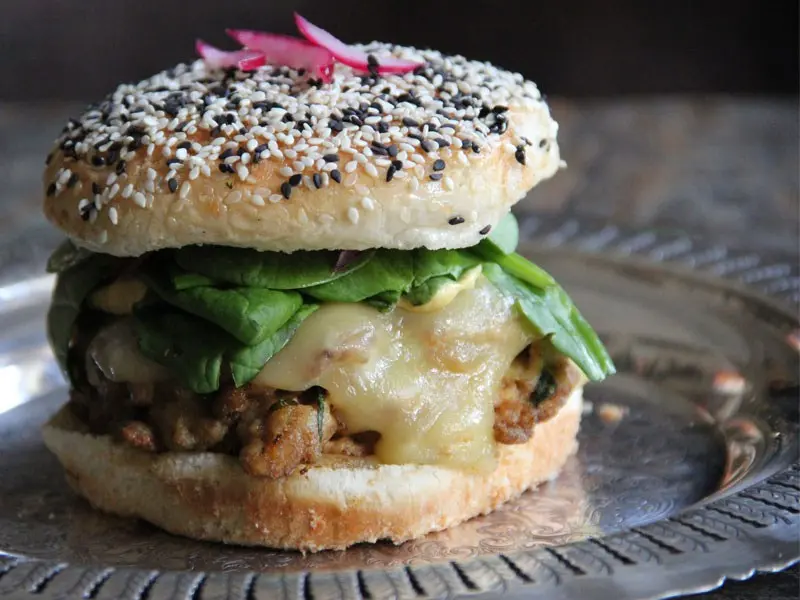 Burger
4

units Burger bun

¾

lb. ground turkey

2

sprigs Thyme

4

slices Gruyere cheese

4

tbsp Dijon mustard

1

handful(s) Baby spinach
Marinated onions
1

Red onion

1/4

cup Sugar

1/4

cup Red wine vinegar
Preheat your oven to 425°F
Setting up
Make sure there are no chunks in the ground turkey. Chop the thyme. Chop the red onion.
Mix everything well.
Mold the ground turkey into patties using the Patty Stacker, by Starfrit.
Pickled onion preparation
In a small saucepan, pour the red wine vinegar then add the sugar and bring to a boil.
Turn off the heat, toss the onions in and leave them at room temperature for 15-20 minutes.
Preparation of the burger
Season the ground turkey with salt and pepper.
In a The Rock nonstick pan with a little bit of canola oil, color the 2 sides well.
Then put them on a baking sheet and bake for 10 minutes, at 425°F.
Cover each patty with a slice of Gruyere cheese.
Have the cheese melt on the patties in the oven for 3-4 minutes.
Bread preparation
Cut buns in half and then lightly brush them with olive oil.
Toast them in the oven until golden brown.
Assembly
Inside the 2 breads, spread the Dijon mustard, add the patties, a little bit of pickled onion and a few spinach leaves then skewer the burger with a toothpick to hold it upright. Serve.
Products used in this recipes