Back
Vegetable and Chicken Couscous
Description
A flavor packed vegetable dish straight from Morocco. The Rock One-Pot 12.5" Skillet with Lid by Starfrit is the perfect utensil for this delicate recipe.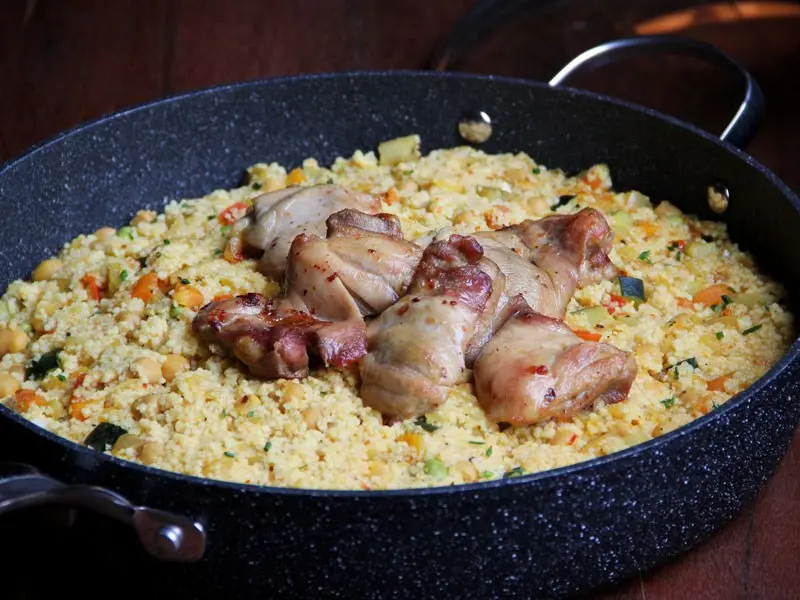 Couscous
2

cups Couscous
1

½

cups Frozen shelled horse beans

1

Onion

2

Turnips

2

Carrots

2

Italian tomatoes

2

Zucchinis

4

Artichoke hearts

1/2

cup Chickpeas

4

tbsp Butter

1/2

oz Ras el hanout

27

oz Vegetable stock

8

cloves Garlic

2

oz Harissa

12

Boneless chicken thighs
Preheat your oven to 400°F
Setting up
Peel and mince the onion.
Peel the carrots and the turnips and cut them into big pieces.
Slice the zucchinis and tomatoes.
Cut the artichokes into cubes.
Mix the couscous with your hands to coat it with olive oil.
Gently heat up the vegetable broth and let it simmer.
Chicken
Properly season the chicken and then sear it until golden-brown in The Rock One-Pot 12.5" Skillet.
Finish the cooking in a preheated oven at 400°F for 10 to 12 minutes as it might vary depending on the thickness of the pieces.
Put the chicken aside.
Couscous/Assembly
In your Starfrit The Rock One-Pot 12.5" Skillet with olive oil, sweat the onion and the garlic, add the vegetables and the chickpeas, and cover with the vegetable stock.
Add the ras el-hanout, bring everything to a boil, then lower to a medium heat and let it cook for around one hour until the vegetables get very tender.
Twenty minutes before the end of the cooking, pour 20 oz of hot stock in the same Starfrit The Rock One-Pot 12.5'' Skillet, add the couscous, cover and let it cook.
Season to your liking.
Chef's tip
The couscous cannot be dry! Make sure to put enough olive oil in each step.