Back
Vegetable Spring Rolls
Description
A spring roll made with rice paper as a base, carrots and radish for the crunch, mint and chives for freshness and a sweet and sour sauce. Easily carry these delicious rolls in the Starfrit Lock&Lock Easy Match 950 ml / 32 oz Square Container and keep your sauces and condiments separate with the different compartments in the container.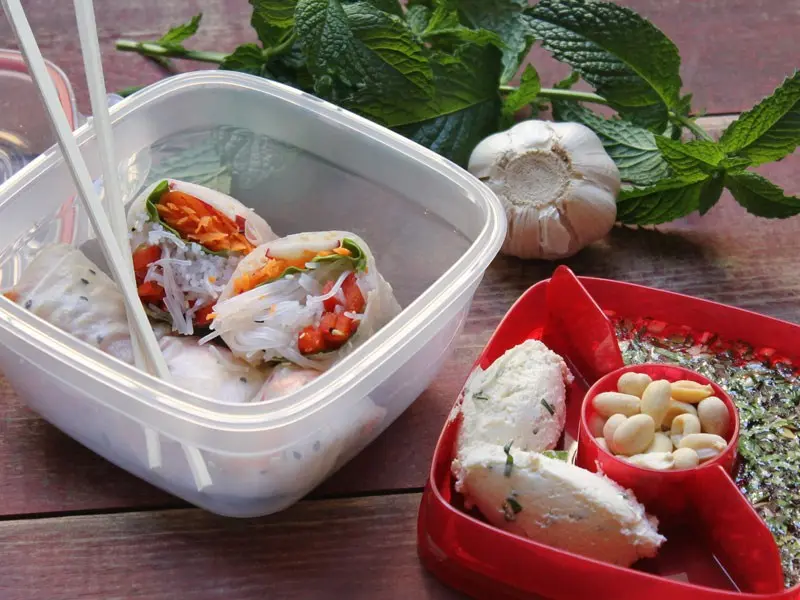 Spring rolls
1/5

lbs Rice vermicelli

8

units Rice paper
2

½

tbsp Black sesame seeds

1

Heart of Boston lettuce

3

Carrots

10

Radishes

16

leaves Mint

1/2

bunch Chives
Sweet and sour sauce
4

tbsp Fish sauce

2

tbsp White wine vinegar

2

tbsp Sugar

3

cloves Chopped garlic

1/2

unit Red pepper

2

sprigs Coriander

12

units Crushed peanuts
Chive cream cheese
1

½

cups Cream Cheese

8

sprigs Chives

1

juice of 1 lemon
Spring rolls
Pour boiling water on the vermicelli and let rest for 5 minutes. Rinse them in cold water and strain them.
In a bowl of warm water, rehydrate the rice noodle sheets and then set them on a moist cloth.
Sprinkle with sesame seeds all over.
Place some vermicelli in the center of the rice sheet.
Add the carrots, soybeans, lettuce leaves, mint and chives.
Fold each side toward the center of the roll and then roll in the opposite direction to obtain a cylinder.
Transfer to a plate and repeat.
Cover with plastic wrap until ready to serve.
Sweet and sour sauce
Clean the vegetables.
Grate the carrot, mince the garlic and pepper.
Combine with the fish sauce, vinegar, sugar and pepper.
Add the vegetables.
Cream cheese
In a mixing bowl, combine the cream cheese with lemon juice, salt and pepper.
Add the chives.
Lock&Lock lunch box
Place the spring rolls in your Starfrit Lock&Lock Easy Match Square Container, and in the separate compartments, place the sweet and sour sauce as well as the chive cream cheese.
Chef's tip
You can use this sweet and sour sauce for grilling.
In the spring rolls, you can start by placing full mint leaves so that they show through the rice paper.
You can always make fine juliennes from the vegetables which is sure to impress your guests.