Back
Vegetarian Burger with Lentils
Description
Here is a burger recipe that is sure to please vegetarians and is loaded with protein! Easy to make and even easier to transport thanks to the Lock&Lock Easy Match 950 ml square container by Starfrit.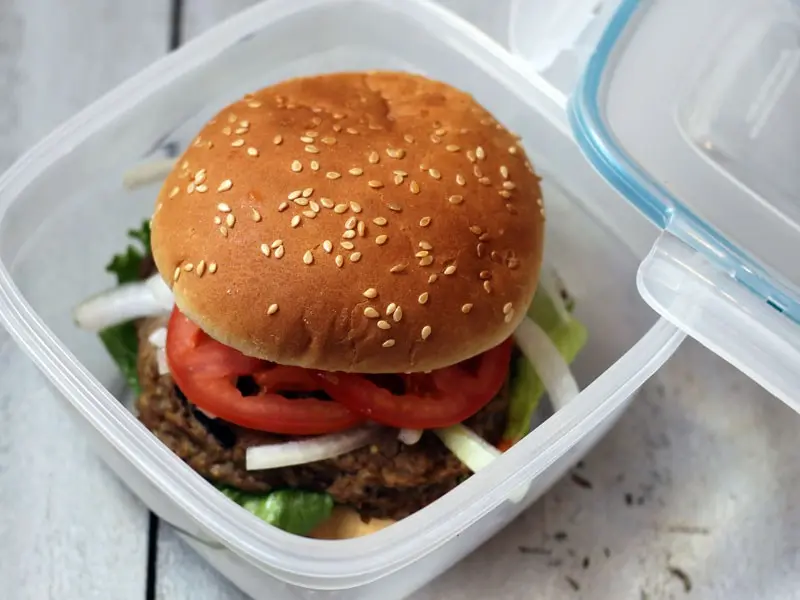 Burger
3/4

cup Can of green lentils (19 oz)

1

Onion

8

oz Button mushroom

1

clove Chopped garlic

1

tbsp Balsamic vinegar

1

cup Jarlsberg cheese

1/2

cup Pine nuts

1

cup Wheat germs

2

tbsp Dijon mustard

1

tbsp Capers

4

Burger buns
Garnish
4

leaves Boston lettuce

2

Tomatoes

1

Onion

4

tsp Dijon mustard

4

tbsp Ketchup
Preheat your at 400 F°
Preparation
Strain the lentils.
Mince the onions and mushrooms.
Grate the cheese.
Toast the pine nuts for roughly 5 minutes in the oven.
Make nice slices of the tomatoes and onions to garnish the burgers.
Burger
In a skillet with butter, color the onions and cook the mushrooms.
Add the garlic and balsamic vinegar and cook until almost fully evaporated.
Strain and set aside.
In a food processor, place the lentils, cheese, pine nuts, wheat germ, mustard and capers.
Blend until almost smooth.
Add the mushrooms and onions that have cooled down slightly.
Form the burger patties to fit the size of bun that you selected.
Sear the patties in a pan for roughly 4 minutes on each side.
Plating
You can toast the burger buns if you wish.
Spread the mustard and ketchup on the bottom half of the buns.
Place the lettuce next.
Top with the veggie patties, tomato slice and onion rings.
Add any other sauce that you wish.
Top with the other half of the buns.
Transfer to the Lock&Lock Easy Match 950 ml square container.
Chef's tip
You can flour the outside of your patties once they are formed to help keep them from sticking or falling apart.