Back
Vegetarian Chili
Description
We're sorry, an error has occurred while generating this content.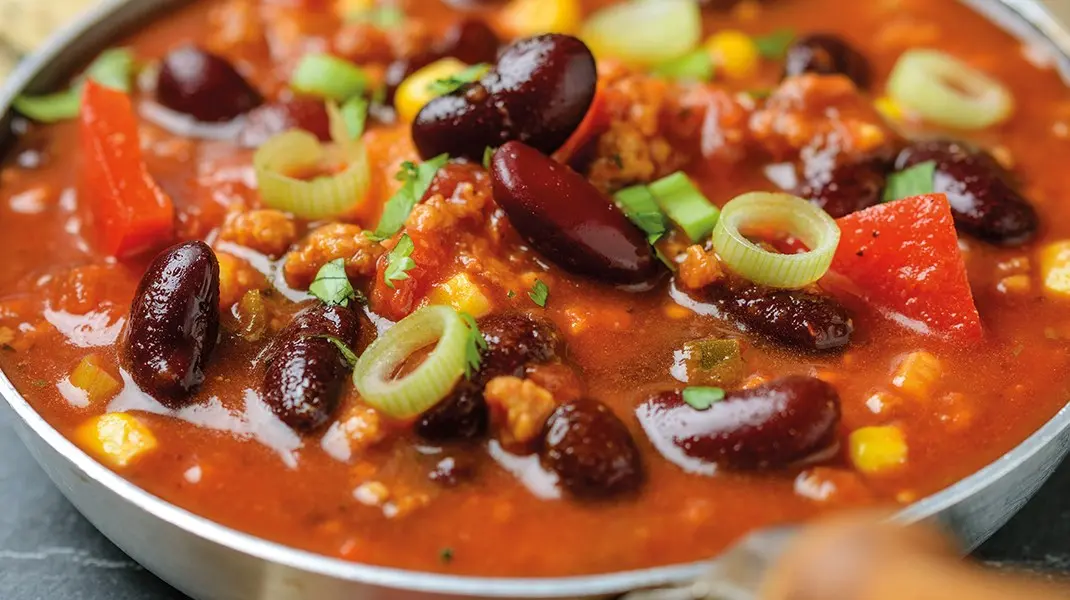 1

tbsp. (30 ml) olive oil

1

medium white or yellow onion, peeled and diced

1

medium red bell pepper, cored and diced

4

cloves garlic, peeled and minced

3–4

cups (3 litres) vegetable stock

1

can (796 ml) diced tomatoes

1

can (540 ml) beans of your choice, rinsed and drained

1

cup (250 ml) uncooked green or brown lentils, picked over and rinsed

1

tablespoon chili powder

1

tsp. (5 ml) smoked paprika

1

tsp. (5 ml) ground cumin
Sea salt and freshly cracked black pepper to taste
Press ''SAUTÉ'' function and let the appliance preheat for 2 minutes.
Stir together, oil, followed by the onion, red bell pepper. SAUTÉ for 3-5 minutes or until the onions are soft. Add garlic and stir for 1 more minute.
Once vegetable is browned, press ''CANCEL'' and switch to ''BEANS/GRAIN''. Used the setting MED. NOTE: In any setting, the time can be changed by pressing the ''+'' and ''-''. NOTE: These presets is for reference only. Actual cooking times may vary.
Add the remaining ingredients to the cooking pot: Vegetable stock, smoked paprika, tomatoes diced, beans, lentils, ground cumin and chili powder. Stir to combine. Add sea salt and pepper to taste.
Close the lid until you hear a ''click'', plug the appliance.
Press START button to accept the setting. Note: Refer to the ''COOKING PROGRESS DISPLAY'' section to monitor cooking stages.
Once cooking time is over, the appliance will beep 5 times and automatically switch to WARM mode.
Let the appliance cool down completely. For a quick release; carefully turn the steam release vent to the ''release'' position . Do not try to force the lid open. WARNING: Use extreme caution when opening the lid and as hot steam will escape and may cause scalding. Use protective oven mitts or gloves to avoid burns or serious personal injury. Always use utensils to handle hot food. WARNING: DO NOT attempt to open the lid before cooking time is over and pressure is completely released from the appliance. This may cause serious injuries.
Turn the lid clockwise to UNLOCK.
Remove the lid.
Products used in this recipes