Back
Moist Yogurt and Pineapple Cake
Description
Moist yogurt cake, citrus sherbet, mandarine gel, lime zest whipped cream: a simple recipe that will be great to prepare with the kids. Preparing pineapple becomes child's play with the Starfrit Pineapple Slicer! The lime whipped cream brings a nice touch of creamy freshness to the dish.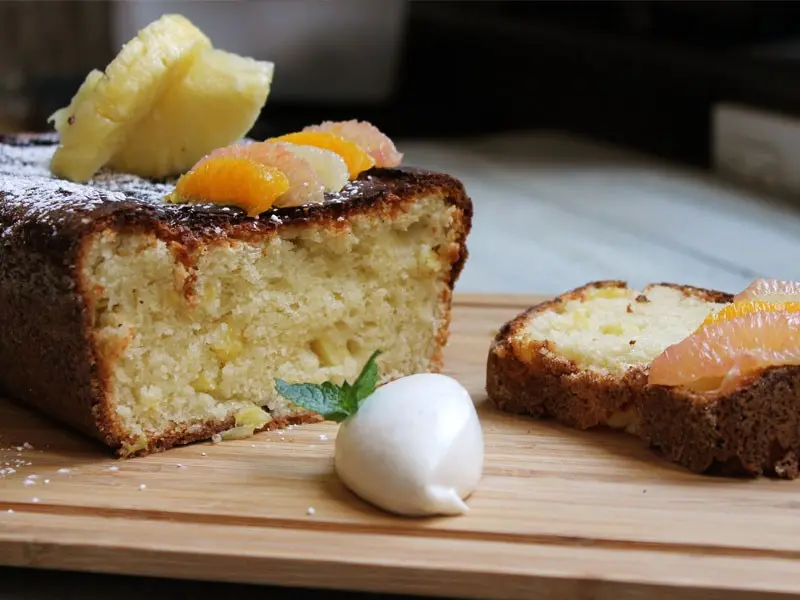 Pineapple cake
1

cup Plain Greek yogurt 0%

3

Eggs

2

cups Sugar

1

cup Canola oil

3

cups Wheat flour

2

tbsp Baking powder
Citrus garnish
2

Oranges

1

Pink grapefruit

2

Lemons
Lime whipped cream
1

cup 35% whipping cream

2

tbsp Icing sugar
Zests of 1 Lime
Preheat your oven to 375°F
Pineapple cake
Peel the pineapple with the help of the Starfrit Pineapple Slicer.
Make small cubes with the flesh.
Butter and sprinkle the molds with sugar.
In the indicated order, combine all the ingredients (except the baking powder) and combine with a whisk.
Add the baking powder last, then pineapple cubes and combine gently.
Fill the molds to 3/4 of their height and transfer to the oven for roughly 35 minutes.
Citrus salad
Peel the citrus with the help of a knife making sure to get to the flesh of the fruit.
With a paring knife, remove the flesh from the citrus making sure not to take any membrane. Set aside.
If possible, wait to the last minute to make the citrus supremes, as they have a tendency to lose their juice quite quickly.
Lime whipped cream
Whip the cream with the icing sugar with a good amount of energy (or using our egg beaters).
It will be easier if the bowl is cold as well.
Once the cream is sufficiently whipped, transfer to the fridge.
When ready to serve, make nice egg-shaped drops and top with lime zest.
Plating
Cut nice slices of the cake and lay them on their side on the plate.
Garnish with the whipped cream topped with lime zest and place the citrus salad to the side.
Products used in this recipes