Back
Kale Salad with Chicken Thighs
Description
In 3 easy steps, use the salad spinner by Starfrit to drain all the unnecessary water out of the kale to make the best salad possible. Then with the dressing shaker, you get the best emulsion for this kale salad with a very sumptuous texture while blending all the flavors together to get better results.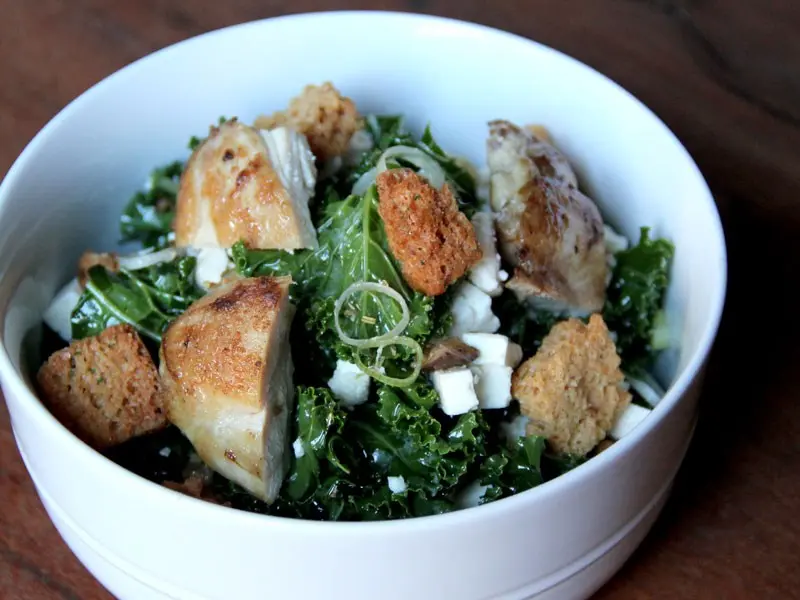 Chicken
1

lb Boneless chicken thighs
3

½

tbsp Vegetable oil
Kale salad
6

oz Kale cabbage leaves
3

½

oz gr Dry figs

7

oz Feta cheese

2

Green onions

1/4

loaf Country bread

1

clove Crushed garlic
White truffle vinaigrette
1

tea spoon Dijon mustard

1

Green onion

2

tbsp Xérès Vinegar

1/2

tea spoon Ground fennel seeds

1/4

tea spoon Chili flakes

2

tbsp Lemon juice
3

½

tbsp. Olive oil
1

½

tea spoons White truffle oil
Preheat your oven at 400 F°
Setting up
Peel all of the kale leaves then chop them roughly. Break down the goat cheese.
Cut the figs in small cubes, the chicken in 3 pieces each and the spring onions very finely.
Slice the bread into the desired shape and sizes for the croutons.
Cooking the chicken and the croutons
In a bowl, put all the raw bread croutons with the olive oil, garlic salt & pepper. On a cooking pan covered with parchment paper, lay all the croutons, on one layer, and then place in the oven at 400°F for 7-8 mins.
For the chicken, have a nonstick pan (or even better a cast iron pan) with canola oil at high heat then sear the chicken on each side until golden brown. Lower down the heat then finish the cooking until well done in the pan. Reserve.
Kale salad
Clean the kale leaves under cold water and then drain them into the Starfrit Salad spinner.
Put all the ingredients for the vinaigrette into the Stafrit Dressing shaker, make sure it is well mixed.
Throw everything together while making sure to have the proper amount of vinaigrette into the salad.
Assembly
In a big salad bowl, put in a nice portion then finish with the garlic croutons, the spring onions and some more feta.
Chef's tip
This recipe is all about the vinaigrette as the kale tends to be very ''present'' in taste and texture!
Products used in this recipes