Back
Perfect Gourmet Waffles
Description
To make this perfect gourmet waffle recipe, use the Gourmet waffle silicone mould and bake in the oven.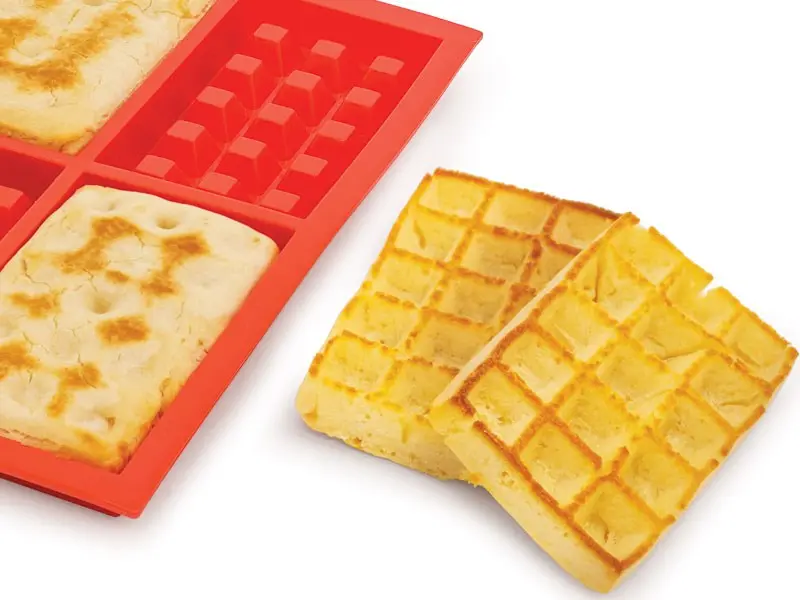 2

cups (500 ml) all-purpose flour

3

tbsp. (45 ml) sugar

2

tsp. (10 ml) baking powder

1

tsp. (5 ml) baking soda

1/4

tsp. (1.25 ml) salt

2

eggs
1

½

cup (375 ml) milk

1

tsp. (5 ml) vanilla extract

¼

cup (60 ml) vegetable oil
Preheat oven to 425 °F (220 °C).
In a medium bowl, combine dry ingredients.
In a separate bowl, whisk eggs, milk, vanilla extract and oil.
Slowly whisk wet ingredients into dry, until just combined.
Place waffle mold on cookie sheet.
Fill mold with batter. Ideally, fill up to interior cavities, otherwise the batter will spill over while cooking.
Bake 9 minutes, flip waffles onto cookie sheet and bake for an additional 5 minutes until golden.