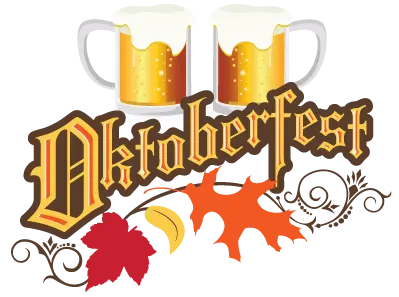 Oktoberfest
O'zapft is! (It's Tapped!)
Since the beginning of time, man has always sought out reasons to drink: from Sunday Night Football to the
beginning
of a semester or to just about any weekend, all occasions are valid. Fortunately for man, a festival almost entirely dedicated to beer has grown more and more popular over the past decade in the US. This fest is
Oktoberfest
. What was once the celebration of a royal German wedding in the early 19
th
century is now an annual nationwide festival centered in Munich where over 32,000 gallons of beer and an array of drunk munchies are feasted on. However, this tradition has now spread across Western society in the form of a
one-day gathering
, while Germans traditionally celebrate over a two-week period. To make your own
Oktoberfest
, make sure you have all the right elements to give your guests the most authentic experience possible.
A traditional beer tent or a Festhalle First of all, you will need
beer
, lots of it. Not only will you be drinking it, you will be cooking with it too. Oktoberfest features hearty sausages and roasts which are often braised in ale and accompanied by variations of cabbage like sauerkraut, a German cabbage that literally and accurately translates to "sour cabbage". Germans specialize in several different types of sausage: there is the classic bratwurst (pork seasoned with marjoram), the juicy knockwurst (pork filled with garlic), boiled weisswurst (veal fused with onions, cardamom and parsley) and many more. Even deserts can be beer-infused as in scrumptious apple strudel or stout chocolate cake and brownies. Another popular Bavarian snack is the baked pretzel. Easy to make and prone to addiction, its recipe possibilities can delight sweet teeth and salty food admirers alike. As the mercury drops, this type of food is just what you need for comfort and warmth (and for beer absorption).
Double Wall Beer Mug
from Gourmet by Starfrit. The double wall prevents the warmth of your hands from affecting the beer's temperature. The isolation barrier created by the double wall also keeps your beverage cool much longer. Another advantage is that It does not leave marks on your tabletops since all the moisture remains inside the mug. For when the party gets carnivorous, you can resort to your
Starfrit Meat Grinder
, ideal when concocting German
wurst
. Simply put your meat mix into the top funnel and push it downwards with the provided pusher while turning the lever on the back end. The result is a finely ground sausage mix. Then, use your
The Rock Roaster
to cook the sausages to perfection with no mess thanks to its large roasting rack. Now you can start drinking again! Just make sure you put a timer on…