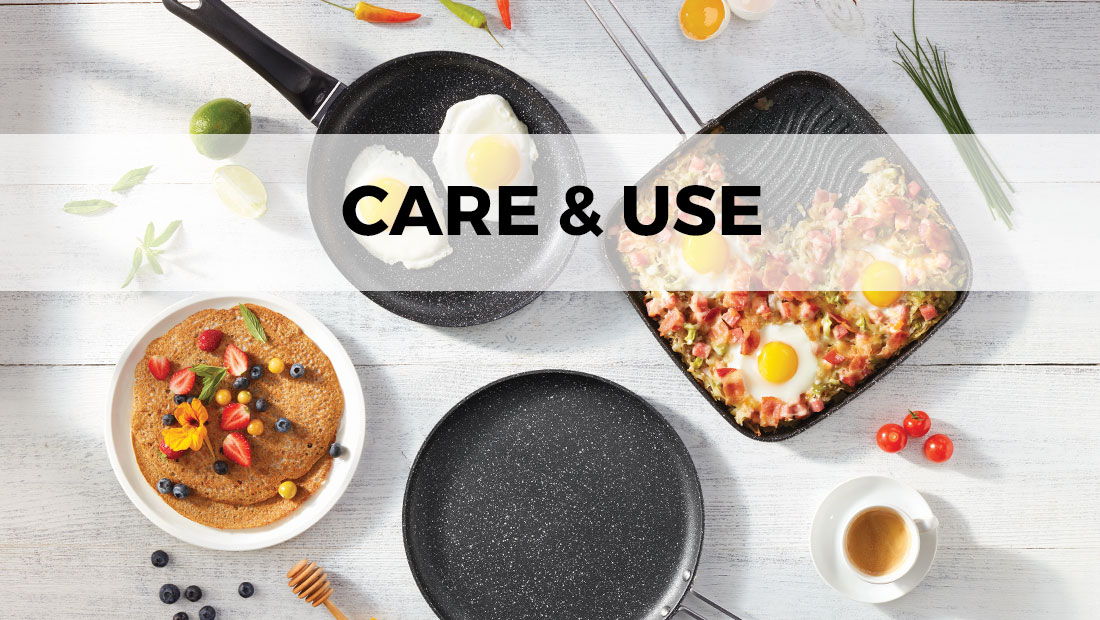 The Rock Non-Stick Cookware Use and Care
The Rock by Starfrit Non-Stick Cookware
Care & Use Recommendations
There are so many restrictions to deal with when it comes to traditional non-stick cookware making it a hassle to care for and clean it. But you'll find that taking care of your pans has never been easier if you cook with The Rock by Starfrit. Cooking with The Rock makes cleanup a breeze. Eggs, meats and veggies all slide right out of these durable non-stick pans, and even if you accidentally leave behind some cooked-on residue, a quick wipe with a sponge or rag in warm, soapy water will take it right off. Be sure you don't use metal scouring pads, which will damage the non-stick surface. Here are some other great tips and advice when it comes to using and caring for The Rock by Starfrit non-stick cookware:
This versatile cookware can be used on any surface—it's compatible with gas, electric, ceramic, and halogen stovetops.
The Rock by Starfrit non-stick cookware also is oven-safe up broil. Be sure to use gloves or oven mitts, however, since the handles will get hot in the oven.
Never heat the cookware when empty—always add oil, butter, liquid or food before placing any of the pots or pans onto a heated burner. It's recommended that you add a teaspoon of cooking oil for the best cooking results.
When boiling water, only add salt after it has come to a boil. Otherwise, the salt will settle to the bottom and damage the metal surface as the pan heats up.
The Rock is scratch resistant, so it's safe to use metal utensils when cooking However, be sure you don't use knifes or sharp utensils that could pierce and damage the non-stick surface.
It's dishwasher safe! Be aware that the shine of the cookware may become dull or discolored when certain detergents are used—this is not covered under the warranty since the performance of the cookware is not affected.
Non-stick cookware Rock.Tec technology
What makes it all so easy is Starfrit's Rock.Tec technology, which creates a permanent dimpled texture on the surface of the cookware that hardens into a speckled rock-like finish. This texture creates micro air pockets between your food and the pan when you're cooking, resulting in a natural non-stick release that's three times better than traditional non-stick coatings. This high-performance, low-maintenance cookware is 50 percent harder than traditional cookware and 40 percent more abrasion resistant. Give it the proper care and you won't need to buy another set of cookware for a long time.