Back
Egg Sandwich and Ham Sandwich
Description
Two classic sandwiches sure to please the kids that are simple, quick to make and will stay fresh in the Lock&Lock 1.2L / 41 oz rectangular container with Easymatch lid system by Starfrit.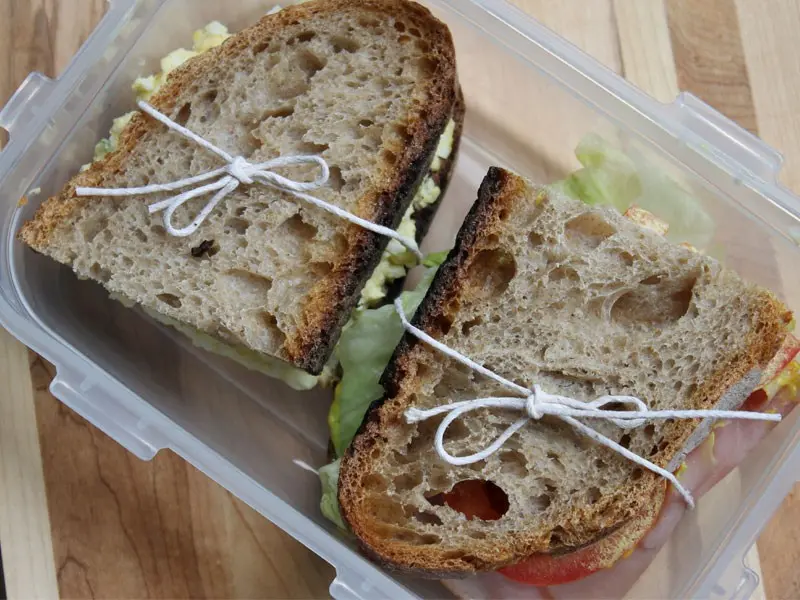 Egg sandwich
4

Eggs

4

tbsp Hellmann's Mayonnaise

1

Green onion

8

slices Soft bread
Ham sandwich
8

slices Soft bread

4

tbsp Yellow mustard

4

thick slices Cooked ham

4

slices Jarlsberg cheese

8

washed Italian tomatoes

4

leaves Iceberg Lettuce
Salt and pepper
Egg sandwich
In a pot of boiling water, cook the eggs for 10-12 minutes.
Once done, cool them down in cold water.
Peel and mash the eggs.
Combine the eggs, mayonnaise and chopped green onions and season to taste with salt and pepper.
Place a nice portion of egg salad on a slice of bread, top with another slice and cut diagonally.
Ham sandwich
Butter the bread with yellow mustard on one side.
Place the ham, then the cheese followed by the tomato and finally a lettuce leaf.
Top with another slice of bread and cut diagonally.
Chef's tip
If eating immediately, toasting the bread is a nice option for the crunchiness.
However, do not toast the bread if making in advance.