Back
Quebec Cheese Fondue
Description
A cheese fondue with a béchamel base that you can make in the Starfrit Electric Fondue Set. This recipe is easy to make and will give you a nice rich result!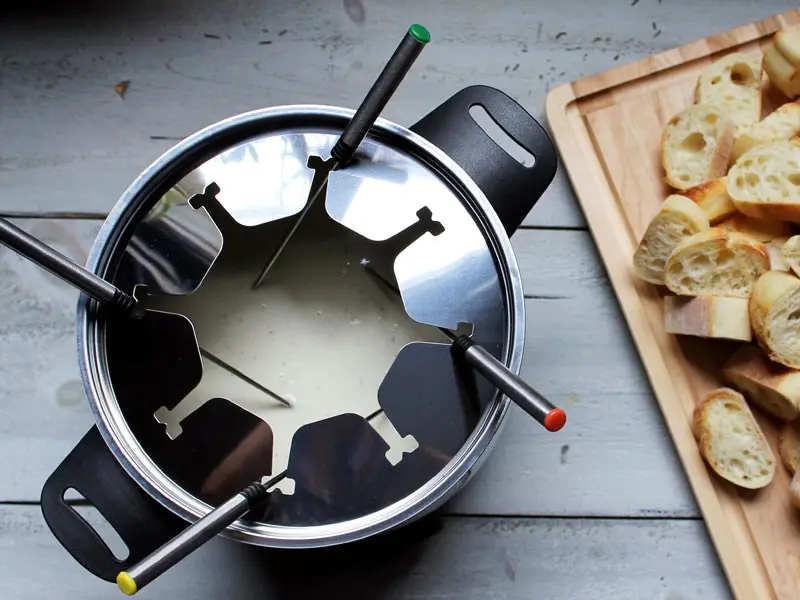 2

tbsp Butter

2

tbsp Wheat flour

1/2

cup Milk

1/2

cup White wine
1

¼

cups Old Cheddar

1

tbsp Wheat flour

1/4

cup Blue cheese

1

cup Monterey Jack cheese

2

cloves Chopped garlic

1

Baguette
Salt and pepper
Preheat your oven to 300 F°
Preparation
Grate the Old Cheddar and Monterey Jack and break apart the Blue Cheese with your fingers.
Combine the cheeses with 1 tbsp of flour.
Cut the baguette into small cubes and bake them in the oven for roughly 5 minutes.
Fondue
In your Electric Fondue Set by Starfrit, melt the butter and add the flour.
Cook for a minute to obtain a roux.
Add the milk while whisking and continue to whisk while cooking.
Once thickened, you will obtain a béchamel.
Add the white wine.
Lower the heat and gradually add the cheese and minced garlic.
Continue to stir.
Once smooth and the cheese fully incorporated, all that is left is to dip the bread and enjoy!
Products used in this recipes