Back
Lasagna with Roasted Vegetables
Description
A classic lasagna but with a simple and fresh vegetable twist! With the Easy Mandoline from Starfrit, cutting and slicing vegetables evenly and at different thicknesses becomes a breeze. Cook everything to perfection with the Rock by Starfrit rectangular dish, by having an even heat all around.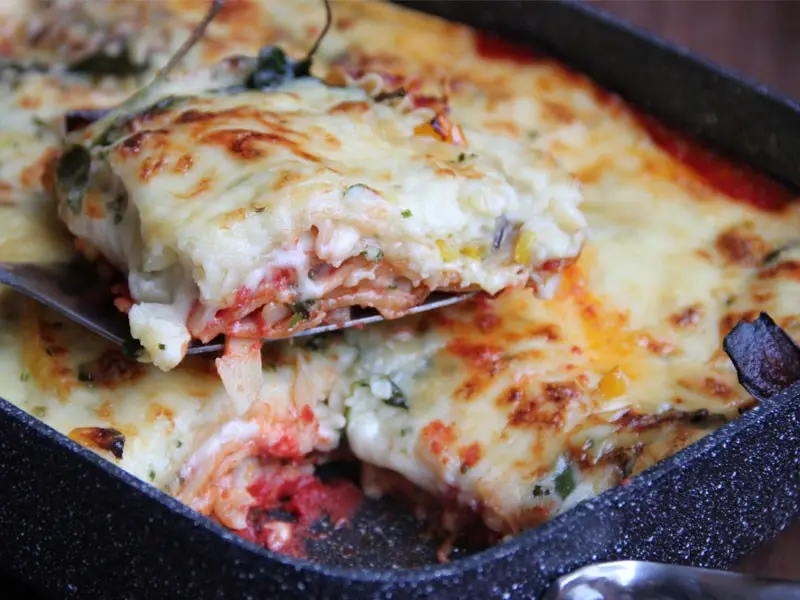 Lasagna
2

cups Tomato sauce

8

leaves Basil

1

large Eggplant

2

Yellow peppers

2

Zucchinis

2

handfuls Baby spinach

1/2

cup Swiss cheese

9

units Precooked lasagna
Bechamel
2

tbsp Butter

3

tbsp Wheat flour
1

¼

cups Milk

¼

cup Swiss cheese

1

pinch Nutmeg
Preheat your oven to 375°F
Setting up
With the Easy Mandoline by Starfrit, slice the eggplant and the zucchini lengthwise.
Take the seeds out of the peppers.
Béchamel
In a medium stewpot, on medium heat, gently start melting the butter then add the flour at the same time while constantly whisking or stirring with a wooden spoon.
Add in the hot milk and keep on stirring slowly until the blend thickens and reaches a smooth texture.
Turn off the heat, add the grated cheese and the nutmeg.
Salt & pepper to taste.
Assembly/Lasagna
In a pan with heavy bottom, slowly cook the spinach with a knob of butter for 2 minutes, give or take.
On a cooking tray covered with a silicone mat.
Place the eggplant slices evenly on a tray covered with a silicone mat and sprinkle with salt and olive oil. Same goes for the zucchinis and the peppers.
Put them both in the oven at 425°F for 10-15 minutes until slightly colored.
Then, inside the The Rock Rectangular Dish, by Starfrit (13'' x 11''), pour in the béchamel to cover the very bottom of it.
Then a layer of cooked lasagna pasta and another layer of eggplant and spinach.
Then, pour the tomato sauce, bechamel again and the grated cheese.
Cover again with another layer of cooked lasagna, tomato sauce, zucchinis and peppers, all around.
Add the remaining béchamel sauce, then the remaining cooked pasta and finish with another layer of tomato sauce and grated cheese.
Put everything in the oven at 375°F for 45 minutes.
You can put the temperature up to 425°F for 5-7 minutes just to give it a nice color and crust, depending on your personal taste!
Chef's tip
Make sure the béchamel is well seasoned as it is the foundation of this entire recipe. It will properly blend all of its flavors.