Back
Tuna Pasta Salad
Description
We're sorry, an error has occurred while generating this content.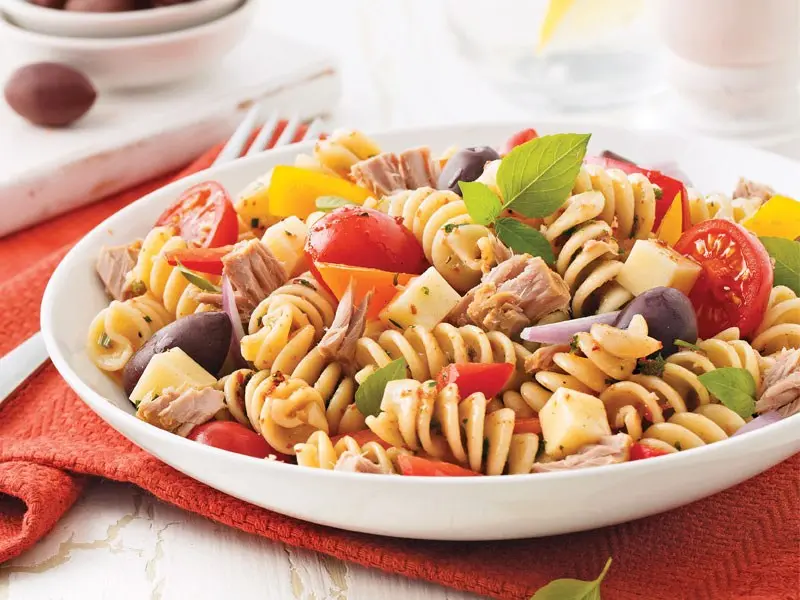 Pasta salad:
1

box (350 g) rotinis (or other pasta, to taste)

125

ml (1/2 cup) sun dried tomato dressing

2

cans of 170 g each, tuna, drained

18

cherry tomatoes (varied colors), cut in half

100

g (3 1/2 oz) Mozzarella, diced

1/2

minced red onion

45

ml (3 tablespoons) minced basil
Optional:
3

halves of peppers (red, orange, yellow), minced

12

black olives
Salad:
In a saucepan, boil salted water and cook pasta until al dente.
Cool under cold water, drain.
In a large bowl, pour dressing.
Add tuna, pasta, cherry tomatoes, cheese, onion, basil - add peppers and olives to taste.
Add salt & pepper, mix.
Sun dried tomato dressing:
In a blender, mix all following ingredients for 30 to 40 seconds:
30 ml (2 tablespoons) sun dried tomato pesto
180 ml (3/4 cup) olive oil
30 ml (2 tablespoons) chive, chopped
15 ml (1 tablespoon) lemon juice
45 ml (3 tablespoons) parsley, chopped
1 garlic clove, chopped
Salt & pepper
Source: © Pratico-Pratiques 2017
Products used in this recipes