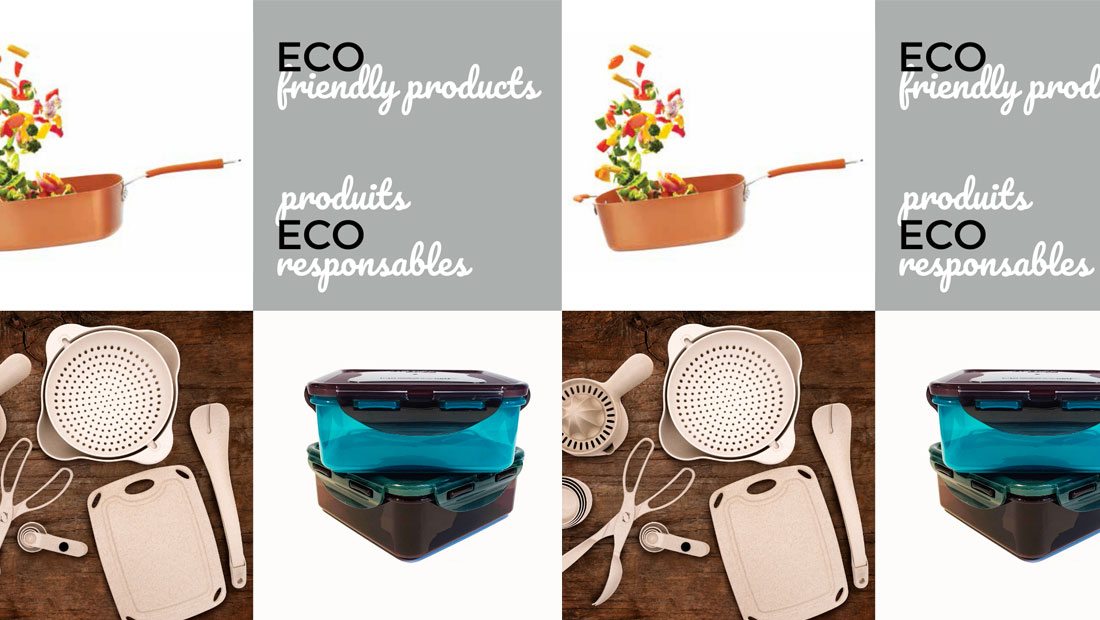 Starfrit Eco-Friendly Kitchen Products
More and more, consumers are aware en environmental issues and choose products on the market that respect our world.
At Starfrit, we are proud to offer our customers many eco friendly products, or products with renewable treatement of some kind. All these kitchen items are much appreciated by our clientèle and we present our most popular here.
Gourmet ECO collection
The kitchen accessory collection Gourmet ECO offers many eco-friendly products designed to make cooking easier. They are all made of renewable and recyclable materials, such as wheat fiber for example.
You can be sure ALL Gourmet ECO products can be recycled when they are thrown away, which makes them eco responsible products.
Here are some of the kitchen accessories offered under this collection:
1. Measuring spoons
This set of 4 measuring spoons nest easily together to save storage space. They include the following measures: 1/4 tsp (1.25 ml), 1/2 tsp (2.50 ml), 1 tsp (5 ml) and 1 tbsp (15 ml). Find them here.
2. Measuring cups
The Gourmet ECO measuring cups are nestable and come in 4 popular sizes: 1/4 cup (60 ml), 1/3 tsp (80 ml), 1/2 cup (120 ml) and 1 cup (240 ml). Find them here.
A complete set of measuring cups and spoons is also offered here.
3. Tongs
This set of 3 tongs offer many sizes which adapt to different tasks during meal preparation - small 6", medium 8" and large 10" long. You can find these nestable tongs here.
4. Ice cream scoop
This ice cream scoop has an acacia wood handle and is great for your frozen treats. You can find it here.
5. The colander/bowl set
Whether it be to strain pasta, fruits, vegetables, or any other food that needs rinsing, the Gourmet ECO colander and bowl set is great. The bowl completes the set to mix and serve your meal, desserts or other inspirations. Offered in LARGE or SMALL sizes.
6. Cutting boards
Cutting boards and a cutting board set is offered in the collection. They are reversible and have grooves to catch liquid of food being prepared. The cutting board set can be found here.
7. Salad tools
The Gourmet ECO collection offers many accessories for salad preparation.
8. Juice extractor with base
With its pouring spout, its seed straner and its eronomic design that facilitates the pressing process, this juice extractor is the one you need in your kitchen. You can find it here.
9. Cake server
This cake spatula is great to slice and serve cake, crusts, pies and more! It can be found here.
10. Bamboo straws (10)
This set of 10 bamboo straws can be used with all types of drinks - soft drinks, alcoholic beverages, cocktails, juices and more. It comes with a cleaning brush. It can be found here.
Food storage containers: LocknLock ECO
Whether you use food storage containers for your lunches, to store washed food to prolong their life or to store leftovers, the LocknLock ECO plastic containers are very practical. Why is it ECO friendly? It's made of leftover plastic chips coming from off-cuts, trims, production over-runs and other surplus plastic. These plastic residues are collected and transformed into resistant and food safe plastic containers. A great way to reduce ecological foodprint and give a seconf life to plastic residue that would normally be thrown away.
Each LocknLock ECO container is BPA free, airtight, liquid tight, are dishwasher safe, microwave and freezer safe. Available in 5 sizes:
ECO Copper coookware
Our ECO Copper cookware are made with a non-stick coating that is 100% natural, NO chemical products, no PTFE or PFOA. They are truly non-stick and the coating is made of 100% natural ceramic spray.
Here are some of our ECO Copper products:
A wide variety of eco responsible, eco friendly, recyclable products offered on the Starfrit website. Check out our offer regularly as our assortment will grow with time.
Note: this article was written in 2021 - it's possible the collections currently available might be different at the time you will be reading this.